converge

con·verge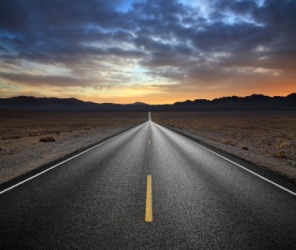 The edges of this road appear to converge in the distance.
verb
To converge is defined as to move or come together at the same point from different places or directions.

An example of to converge is friends from California, Washington and Canada meeting in Oregon.
---
converge
intransitive verb
-·verged′

,

-·verg′ing
to come together or tend to come together at a point
to move or be directed toward each other or toward the same place, purpose, or result
to approach a definite limit, as the sum of certain infinite series of numbers (Ex: 1 + + + + + . . . = 2)
Origin of converge
Late Latin
convergere
from Classical Latin
com-,
together +
vergere,
to bend: see verge
---
converge
verb
con·verged, con·verg·ing, con·verg·es
verb
intransitive
a. To tend toward or approach an intersecting point: lines that converge.

b. To come together from different directions; meet: The avenues converge at a central square.

To tend toward or achieve union or a common conclusion or result: In time, our views and our efforts converged.
Mathematics To approach a limit.
verb
transitive
To cause to converge.
Origin of converge
Late Latin
convergere
to incline together
Latin
com-
com-
Latin
vergere
to incline
; see
wer-
2
in Indo-European roots.
---
converge

Verb
(third-person singular simple present converges, present participle converging, simple past and past participle converged)
(intransitive) Of two or more entities, to approach each other; to get closer and closer.
Origin
From Latin convergere, from con-, "together", + vergere, "to bend".
See also:
convergé
---