close

close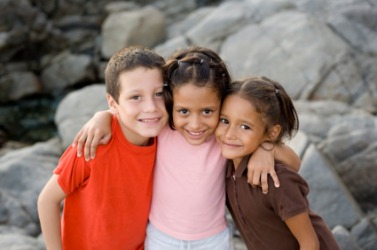 These children are standing very close to each other.
adjective
The definition of close is near or almost.

An example of close is a house that is only one street away from the community pool.
An example of close is losing the game by only one point.
verb
Close means to seal up, shut off or make something not be open anymore.

An example of close is to shut the lid on a laptop.
---
close
adjective
clos′er

,

clos′est
denoting the fact or state of being closed or confined shut; not open enclosed or enclosing; shut in confined or confining; narrow: close quarters carefully guarded: close custody shut away from observation; hidden; secluded secretive; reserved; reticent miserly; stingy restricted, as in membership oppressively warm and stuffy: said of the weather, atmosphere, etc. not readily available: credit is close

Phonet.

articulated with the tongue relatively high in the mouth, near the palate: said of certain vowels, as the (?) in eat
denoting nearness with little space between; with the intervening space closing or closed up; near together having parts or elements near together; compact; dense: close marching order, close weave fitting tightly: a close coat

down or near to the surface on which something grows; very short: a close shave
not far away; nearby: a close neighbor

near in interests, affection, etc.; intimate; familiar: a close friend varying little from the original or model: a close translation strict; thorough; careful: a close search compactly expressed; concise: a close description accurate; logical; precise: close reasoning nearly equal or alike: close in age difficult to resolve or uncertain in outcome: a close decision
Origin of close
Middle English
clos
from Old French from Classical Latin
clausus
, past participle of
claudere
(see close); senses under II from notion "with spaces or intervals closed up"
adverb
clos′er

,

clos′est
in a close manner; very near; closely
close to the wind
Naut.

heading as closely as possible in the direction from which the wind is blowing
barely avoiding what is unlawful
transitive verb
closed

,

clos′ing
to move (a door, lid, etc.) to a position that covers the opening; shut
to shut by so moving its lid, cover, etc.: close a jewelry box, one's eyes, etc.

to bar entrance to or exit from: to close a street
to fill up or stop (an opening)

to draw the edges of together: to close an incision
to fold up or bring together the parts of: to close an umbrella
to bring together the covers of (a book, magazine, etc.) so that the pages cannot be seen, read, etc.

to clench (a fist)
to bind together; unite: to close forces
to bring to an end; finish
to stop or suspend the operation of (a school, business, etc.)
to complete or make final (a sale, agreement, etc.)
to make stubbornly resistant: to close one's mind
Origin of close
Middle English
closen
from Old French
clos-
, stem of
clore
from Classical Latin
claudere
, to close, block up from Indo-European base an unverified form
kl?u, an unverified form kl?u-
, hook, crooked or forked branch, close with a hook or bar from source slot, lot, Classical Greek
kleistos
, closed, Classical Latin
clavis
, key,
clavus
, nail, Old Irish
clo
, nail, German
schliessen
, to lock
to undergo shutting: the door closes quietly
to come to an end

to end or suspend operations: the store closes at noon
in the stock exchange, to show an indicated price level at the day's end: steel closed high

to have its edges become joined together: the wound has closed
to come together
to take hold: her hand closed on the package
to throng closely together: his friends closed about him
to lessen an intervening distance; gain: closing on the lead runner
to make contact or come close, as in order to begin fighting

to conclude a business transaction
to be concluded: said of a business transaction
a closing or being closed
the final part or conclusion; end

Archaic

a hand-to-hand encounter
close down
to shut or stop entirely
to settle down (on), as darkness or a fog
close in
to draw near from various directions, as to cut off escape: the wolves closed in for the kill
to surround or confine
close out
to dispose of (goods) by sale, as in ending a business
to terminate (a position in securities or commodities), as by buying shares in order to cover a short sale of stock
close up
to draw nearer together
to shut or stop up entirely
to heal, as a wound does
an enclosed place, as a farmyard
enclosed grounds around or beside a building: a cathedral close
a narrow street or passageway; also, a dead-end street
Origin of close
Middle English
clos
from Old French from Classical Latin
clausum
, origin, originally , neuter past participle of
claudere
: see close
---
close
adjective
clos·er, clos·est
Being near in space or time. See Usage Note at redundancy.
Being near in relationship: close relatives.
Bound by mutual interests, loyalties, or affections; intimate: close friends.
Having little or no space between elements or parts; tight and compact: a close weave.
Being near the surface; short: a close haircut.
Being on the brink of: close to tears.
Decided by a narrow margin; almost even: a close election.
Faithful to the original: a close copy.
Very attentive; rigorous; thorough: a close reading; close supervision.
Shut; closed.
Shut in; enclosed.
Confining or narrow; crowded: close quarters.
Fitting tightly: close garments.
Warm and humid or stuffy: close weather; a close room.
Confined to specific persons or groups: a close secret.
Strictly confined or guarded: kept under close custody.
Secretive; reticent: was close about her personal life.
Giving or spending with reluctance; stingy: He is known to be close with his money.
Not easily acquired; scarce: Money was close.
Linguistics Pronounced with the tongue near the palate, as the ee in meet. Used of vowels.
Marked by more rather than less punctuation, especially commas.
verb
closed, clos·ing, clos·es
verb
transitive
To move (a door, for example) so that an opening or passage is covered or obstructed; shut.
To bar access to: closed the road for repairs.
To fill or stop up: closed the cracks with plaster.
To stop the operations of permanently or temporarily: closed down the factory.
To make unavailable for use: closed the area to development; closed the database to further changes.
To bring to an end; terminate: close a letter; close a bank account.
To bring together all the elements or parts of: Management closed ranks and ostracized the troublemaker.
To join or unite; bring into contact: close a circuit.
To draw or bind together the edges of: close a wound.
Sports To modify (one's stance), as in baseball or golf, by turning the body so that the forward shoulder and foot are closer to the intended point of impact with the ball.
To complete the final details or negotiations on: close a deal.
Archaic To enclose on all sides.
verb
intransitive
To become shut: The door closed quietly.
To come to an end; finish: The book closes on a hopeful note.
To reach an agreement; come to terms: We close on the house next week.
To cease operation: The shop closes at six.
To be priced or listed at a specified amount when trading ends: Stocks closed higher on Monday.

a. To engage at close quarters: closed with the enemy.

b. To draw near: The orbiter closed with the space station in preparation for docking.

To come together: My arms closed around the little child.
Baseball To finish a game by protecting a lead. Used of relief pitchers.
noun
The act of closing.
A conclusion; a finish: The meeting came to a close.
Music The concluding part of a phrase or theme; a cadence.
An enclosed place, especially land surrounding or beside a cathedral or other building.
Chiefly British A narrow way or alley.
Archaic A fight at close quarters.
adverb
closer, closest
In a close position or manner; closely: stayed close together.
Phrasal Verbs:
close in
To seem to be gathering in on all sides:
The problems closed in.
To advance on a target so as to block escape:
The police closed in on the sniper.
To surround so as to make unusable:
The airport was closed in by fog.
close out
To dispose of (a line of merchandise) at reduced prices.To terminate, as by selling:
close out a business.
Origin of close
Middle English
clos
closed
from
Old French
from
Latin
clausus
past participle of
claudere
to close
V., from
Middle English
closen
from
Old French
clore
clos-
from
Latin
claudere
Related Forms:
clos′a·ble close′a·ble

adjective
---
close

---
close - Computer Definition
---
close - Legal Definition
n
An enclosed place or tract of land.
n
The visible boundary around an enclosed place or tract of land, consisting of a fence, hedge, wall, or similar structure, or the invisible boundary around an unenclosed place or tract of land. The boundary is "broken" if anyone crosses the boundary without permission or an invitation from the land's owner. See also
breach
.
n
The legal interest of one who owns a particular piece of enclosed or unenclosed land.
v
To consummate, conclude, or bring to an end, especially a discussion or negotiation. See also
closing
.
---