generous

gen·er·ous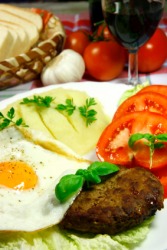 A generous amount of food.
adjective
The definition of generous is kind and giving, or a large amount.

An example of generous is a small business giving their employees an end of year bonus.
An example of generous is a plate piled high with food.
---
generous
Obs.

of noble birth
having qualities attributed to people of noble birth; noble-minded; gracious; magnanimous
giving or sharing liberally and willingly; openhanded
large; ample: generous portions of food
rich in yield; fertile
full-flavored and strong: said of wine
Origin of generous
Classical Latin
generosus
, of noble birth, excellent, generous from
genus
: see genus
---
generous
adjective
Liberal in giving or sharing. See Synonyms at liberal.
Showing kindness and magnanimity: It was generous of him to mention us in his remarks.
Marked by abundance; ample: a generous slice of cake.
Having a rich bouquet and flavor: a generous wine.
Obsolete Of noble lineage.
Origin of generous
French
genereux
of noble birth, magnanimous
from
Latin
generōsus
from
genus
gener-
birth
; see
genə-
in Indo-European roots.
Related Forms:
---
generous

Adjective
(comparative more generous, superlative most generous)
Noble in behaviour or actions; principled, not petty; kind, magnanimous. [from 16th c.]

Thank you for your generous words.

Willing to give and share unsparingly; showing a readiness to give more (especially money) than is expected or needed. [from 17th c.]

She's been extremely generous with her winnings.
---