penurious

pe·nu·ri·ous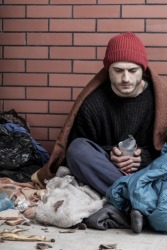 The penurious man could not afford rent and became homeless.
adjective
The definition of penurious is someone extremely poor or something that is characterized by poverty, or being very cheap and unwilling to spend any money.

A homeless person who has no money or assets is an example of someone who would be described as penurious.
A person who will not even spend a dollar on his grandchild's present because he is so cheap is an example of someone who is penurious.
---
penurious
unwilling to part with money or possessions; mean; miserly; stingy
characterized by extreme poverty; impoverished
Origin of penurious
Medieval Latin
penuriosus
from Classical Latin
penuria:
see penury
---
penurious
adjective
Poverty-stricken; destitute.
Unwilling to spend money; stingy.
Scanty or meager: "an allowance of cold meat and bread, in the same penurious proportion observed in our ordinary meals" ( Charlotte Brontë )
Origin of penurious
From
Medieval Latin
pēnūriōsus
from
Latin
pēnūria
want
Related Forms:
---
penurious

Adjective
(comparative more penurious, superlative most penurious)
Miserly; excessively cheap.

The old man died a penurious wretch; eighty-thousand dollars in the mattress and as many holes in the roof.

Impoverished; wanting for money.

The poor penurious horde, naught in the cooking pot and naught in the belly.
---