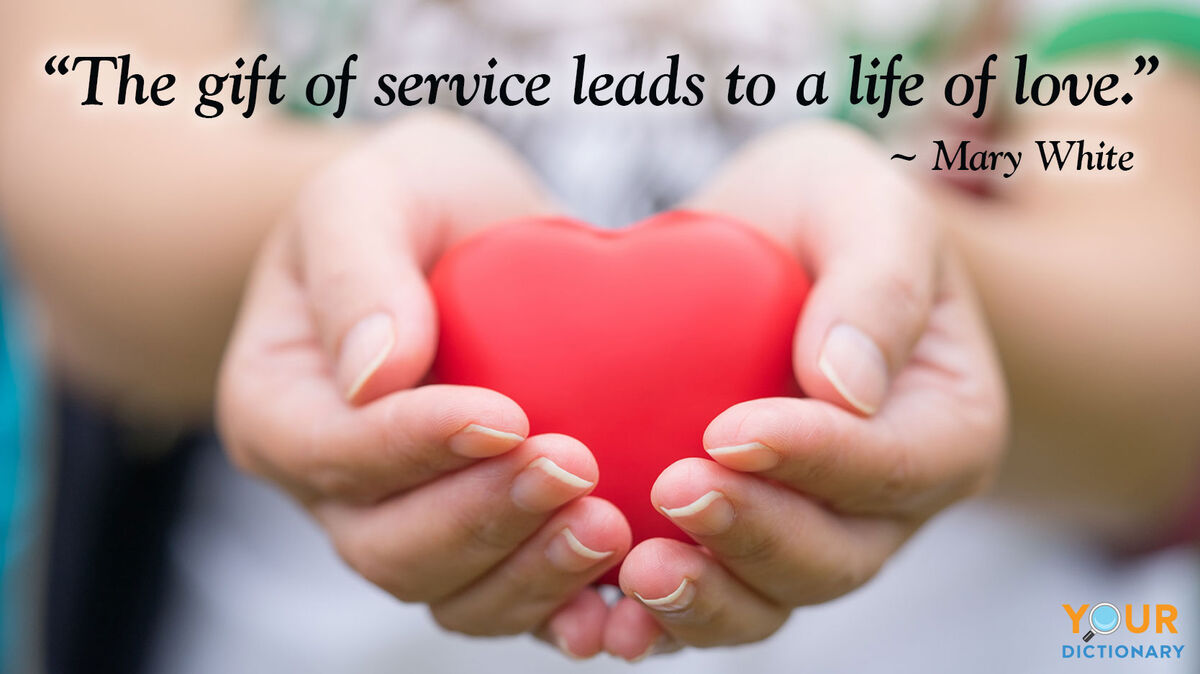 In a day and age where time is a precious commodity, it's important to find the right words to thank volunteers who take time from their busy lives to help out. Volunteering takes time and energy and, to state the obvious, it's not like they're getting paid. Find the right words to say thank you for volunteering to let your volunteers know how profoundly appreciated they are.
Examples of Thankful Words for Volunteers
Here are a few simple phrases that you can mix and match for all your volunteer praising needs. Whether you're writing a volunteer appreciation speech or crafting a letter to send to individuals who generously donate their time, these sentences can help you get started.
Thanks for all you do! We couldn't get along without you.
Your team makes our dream work.
All of your volunteer work is greatly appreciated.
We at [insert organization here] are so grateful for your hard work!
Thank you for your time and patience. We love our volunteers!
Your help was so important to our project!
We owe [insert project here] to your hard work and dedication!
We'll never forget your hard work. Thank you!
Thank you for all your time and hard work!
Thank you for volunteering your time and expertise.
Thank you volunteers, for your amazing generosity and dedication.
This project couldn't have been as successful with your involvement. Thank you so much for volunteering.
Volunteers are special. We appreciate you and everything you do!
Words cannot express how grateful I am for your willingness to volunteer.
Your generosity means the world to the people we serve.
Your group was AMAZING! Thank you for thinking of us!
Your dedication as a volunteer is an inspiration to others.
Your example is an inspiration to others seeking to serve.
With deepest gratitude for your commitment to serve, I thank you on behalf of [insert organization name] and the people we serve.
Your generosity is seemingly endless. Thank you for your amazing generosity.
We are humbled by your generosity, both your volunteerism and financial donation. Thank you for your unwavering support.
Thank You to Volunteer Committee Chairs or Board Members
Serving on the board of directors or heading up a committee for a nonprofit organization takes a lot of time and effort. People who share their time and expertise to this extent deserve a special thank you message that acknowledges their unique contributions.
Board members are the lifeblood of [insert organization name]. Thank you so very much for agreeing to serve in this capacity. Your commitment makes a difference.
How incredibly generous of you to agree to lead the [insert name] committee. Thank you for stepping up to take over this important committee. You are appreciated.
It takes the dedication of committed volunteer leaders like yourself to empower [insert name of organization] to assist [insert number] of families in need every year.
Thank you for accepting the volunteer position of [fill in title] of [fill in name of organization] on the [insert year or term dates] board of directors.
Thank you for your leadership and support. Your selfless commitment to continue with [insert organization] as a volunteer leader is truly incredible. You are appreciated.
Where would [insert organization name] be without the commitment of committee chairs like you. Thank you so much for accepting this leadership role. Your generous support is greatly appreciated.
You are an inspirational leader, lighting the way for [insert organization name] staff members and volunteers alike. Thank you for your commitment to our board of directors.
Your actions as a volunteer leader have raised the level of service [insert organization] is able to provide to needy families in our community. You are an inspiration.
Your efforts embody the spirit of what it means to really be the change you wish to see in the world. Thank you so much for your selfless and ongoing volunteer leadership.
Your leadership of the [insert name] committee this year is greatly appreciated. Your contributions have made such a difference to the lives of people in our community.
Volunteer Appreciation Quotes and Sayings
Consider using a quote or saying about volunteerism as a thank you message for volunteers. Use some of these original sayings or recognizable quotes or let them inspire you to come up with some of your own. For even more inspiration, review some volunteer appreciation poems.
The gift of service leads to a life of love.
"Always be a gift for others" - Pope Francis
Commitment to community is evident in everything you do.
You have taken the concept of giving back to the highest level.
Volunteers have an attitude of gratitude and a commitment to serve.
No challenge is too big for a dedicated volunteer.
The heart of a volunteer beats in service to others.
There is no end to your giving.
The world is better today than it was yesterday, thanks to the efforts of volunteers.
You are truly an example of selfless service.
Volunteers add value to everything they touch.
Volunteers make the world a better place.
No donation is too big or too small; volunteer generosity, we appreciate it all.
Service above selfishness. That's the decision you have made.
Superstar service with a smile; our volunteers go the extra mile.
Your selflessness is an inspiration to others.
We are humbled by the generosity and selflessness of our volunteers.
Who among us has not at some time been impacted positively by the generosity of a volunteer?
Who can change the world? Volunteers, that's who.
"Everybody can be great because anybody can serve. You don't have to have a college degree to serve. You only need a heart full of grace. A soul generated by love." - Dr. Martin Luther King, Jr.
Thank You Email to Volunteers After an Event
If you host an event that is staffed by volunteers, it's a great idea to send each one an email (or a handwritten thank you note) shortly after the event. This message should express appreciation for their efforts while also providing some statistics about the event so that volunteers can see how much impact their efforts have made.
Dear [insert name],

Thank you so much for serving on the committee for [insert organization name]'s annual [insert event name]. Your willingness to give so freely of your time and service is greatly appreciated. Your support of [insert organization name]'s mission allows us to serve [insert number] people in the community each year, providing access to [specify what the organization does] that they would not otherwise be able to afford.


The event you recently assisted with is [insert organization name]'s primary fundraiser. This year's event brought in approximately [insert approximate dollar amount], which will go directly to support the important work we do within the local community. Thanks to your efforts, we will be able to continue meeting the needs of families who truly need this assistance. Not only does your work help the organization, it directly impacts each person who receives assistance.

Again, I thank you so much for your willingness to donate your time and talent. Your efforts contributed greatly to the success of this event. I look forward to your continued volunteer involvement with [insert event name].


Regards,

[Your Name Here], Executive Director

[Insert Organization Name]
Let Volunteers Know They Are Appreciated
It's important to take the time to say thank you. Volunteers have only so much time to give, and many nonprofit organizations and causes would gladly accept any help they would give. Letting volunteers know that their contributions are important and that their hard work matters can help reinforce that decision and encourage them to keep volunteering. Never pass up a chance to deliver a thank you message for volunteers. If you're still searching for the right thing to say, check out these examples of words of appreciation.