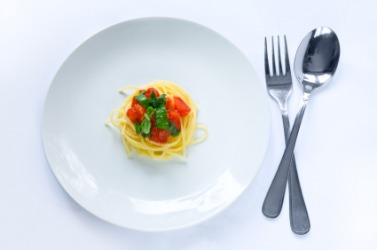 A meager portion of pasta.
adjective
The definition of meager is something that is thin, scanty or not enough.

An example of meager is two mushrooms for dinner.
---
meager
thin; lean; emaciated
of poor quality or small amount; not full or rich; inadequate
Origin of meager
Middle English
megre
from Old French
megre
(Fr
maigre
) from Classical Latin
macer
, lean, thin from Indo-European an unverified form
makro-
from base an unverified form
m?k-
, long and thin from source Classical Greek
makros
, long, Old English
mæger
, meager
---
meager
also mea·gre
adjective
Deficient in quantity, fullness, or extent; scanty.
Deficient in richness, fertility, or vigor; feeble: the meager soil of an eroded plain.
Having little flesh; lean.
Origin of meager
Middle English
megre
thin
from
Old French
from
Latin
macer
; see
māk-
in Indo-European roots.
Related Forms:
---
meager

Verb
(third-person singular simple present meagers, present participle meagering, simple past and past participle meagered)
To make lean.
Origin
From Middle English megre, from Anglo-Norman megre, Old French maigre, from Latin macer, from Proto-Indo-European *mh₂ḱros. Akin, through the Indo-European root, to Old English mæġer ("meager, lean"), Dutch, German mager, Old Norse magr whence the Icelandic magur.
---