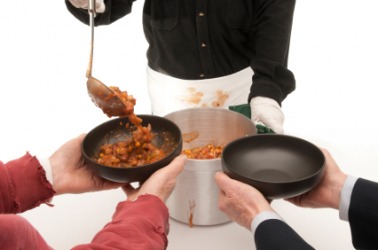 Soup being doled out at a soup kitchen.
noun
The definition of a dole is charitable giving.

An example of a dole is food given to the homeless.
verb
To dole is defined as to give out or share.

An example of to dole is to give out clothing to the needy.
---
dole
a giving out of money or food to those in great need; relief
that which is thus given out
anything given out sparingly

Informal, Chiefly Brit.

a form of government aid to the unemployed, as in England: usually preceded by the and often in the phrase

on the dole

, receiving such aid

Archaic

one's destiny or lot
Origin of dole
Middle English
dol
from Old English
dal
, a share, parallel to
dæl
: see deal
transitive verb
doled

,

dol′ing
to give sparingly or as a dole: usually with out
Origin of dole
see doleful
---
dole
noun
The distribution by the government of relief payments to the unemployed.
A share of money, food, or clothing that has been charitably given: increasing the monthly dole given to poor families.
Archaic One's fate.
transitive verb
doled, dol·ing, doles
To give out, especially in portions or shares; allot or distribute. Often used with
out:
The mayor doled out jobs to those who had supported him in the election.
See Synonyms at
distribute
.
Origin of dole
Middle English
dol
part, share
from
Old English
dāl
; see
dail-
in Indo-European roots.
noun
Archaic
Sorrow; grief; dolor.
Origin of dole
Middle English
dol
from
Old French
dol, deul
from
Late Latin
dolus
from
Latin
dolēre
to feel pain, grieve
---
dole

---