noun
The definition of grief is a feeling of great sadness, especially when caused by a loss or death, or grief can describe being the cause of trouble for someone.

An example of grief is what you feel after your spouse dies.
An example of grief is when you constantly tease your friend about his new haircut.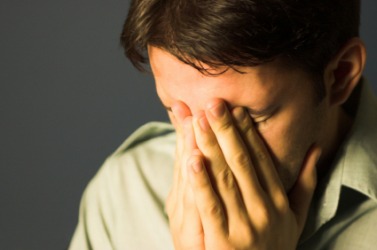 A man deals with grief.
---
grief
noun
intense emotional suffering caused by loss, disaster, misfortune, etc.; acute sorrow; deep sadness
a cause or the subject of such suffering

Informal

irritation or frustration, esp. from accidents, mishaps, etc.: the griefs of a computer operator
trouble; difficulty; problem: enough grief for one day
a cause of any of these
Origin of grief
Middle English
gref
; from Old French sorrow, grief ; from
grever
: see grieve
---
grief
noun
a. Deep mental anguish, as that arising from bereavement, or an instance of this. See Synonyms at

regret

.

b. A source or cause of deep mental anguish: "That knowledge would be a grief to her" (Tobias Wolff).

a. Annoyance or frustration, or an instance of this: Trying to follow their directions was nothing but grief.

b. Trouble or difficulty, or an instance of this: the griefs of trying to meet a deadline.

c. Informal Criticism or rude talk: gave me a lot of grief about being late.

Archaic A grievance.
Origin of grief
Middle English, from Old French, from
grever
,
to harm, aggrieve
; see
grieve
.
---
grief
Noun
(countable and uncountable, plural griefs)
Pain of mind arising from misfortune, significant personal loss, misconduct of oneself or others, etc.; sorrow; sadness. [from early 14th c.]

She was worn out from so much grief.
The betrayal caused Jeff grief.

(countable) Cause or instance of sorrow or pain; that which afflicts or distresses; trial.

Surely, he hath borne our griefs, and carried our sorrows. -Isaiah 53:4
Verb
(third-person singular simple present griefs, present participle griefing, simple past and past participle griefed)
Usage notes
This verb is most commonly found in the gerund-participle griefing and the derived noun griefer.
---