joy

joy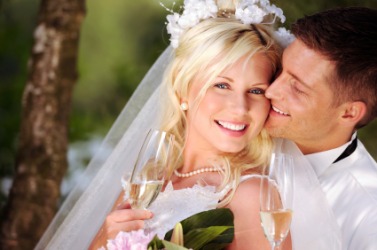 A brides face shows joy on her wedding day.
noun
Joy is defined as happiness and delight.

An example of joy is what you feel on your wedding day.
---
joy
a very glad feeling; happiness; great pleasure; delight
anything causing such feeling
the expression or showing of such feeling
Origin of joy
Middle English
joie
from Old French from Late Latin
gaudia,
origin, originally plural of Classical Latin
gaudium,
joy from Indo-European base an unverified form
g?u-,
to rejoice from source Classical Greek
g?thein,
to rejoice, Middle Irish
g?aire,
noble
to be full of joy; rejoice
Joy
---
joy
noun
a. Intense and especially ecstatic or exultant happiness, or an instance of such feeling.

b. An expression of such feeling.

A source or an object of joy: their only child, their pride and joy.
verb
joyed, joy·ing, joys
Archaic
verb
intransitive
To take great pleasure; rejoice.
verb
transitive
To fill with ecstatic happiness, pleasure, or satisfaction.
To enjoy.
Origin of joy
Middle English
joie
from
Old French
from
Latin
gaudia
pl. of
gaudium
joy
from
gaudēre
to rejoice
; see
gāu-
in Indo-European roots.
---
joy

Noun
(countable and uncountable, plural joys)
A feeling of extreme happiness or cheerfulness, especially related to the acquisition or expectation of something good.

a child's joy on Christmas morning

They will be a source of strength and joy in your life.

Anything that causes such a feeling.

the joys and demands of parenthood

Dryden

The roofs with joy resound.
Verb
(third-person singular simple present joys, present participle joying, simple past and past participle joyed)
(intransitive) To feel joy, to rejoice.
(archaic) To enjoy.
Prior

To joy the friend, or grapple with the foe.
Origin
Middle English joye, from Old French joie, from Late Latin gaudia, neuter plural (mistaken as feminine singular) of gaudium ("joy"), from gaudēre ("to be glad, rejoice"). Displaced native Middle English wunne (from Old English wynn), Middle Englishhight, hught ("joy, hope") (from Old English hyht), Middle English rot, root ("joy, delight") (from Old English rōt), Middle English murȝe murghe ("joy, mirth") (from Old English myrg ("joy, mirth")), Middle English gleo ("joy, glee") (from Old English glēow, glīw ("glee")), Middle English blisse ("joy, bliss") (from Old English blisse, blīþs).
Proper noun
A female given name.
Origin
From the noun joy, first used by Puritans in the 17th century.
---