rot

rot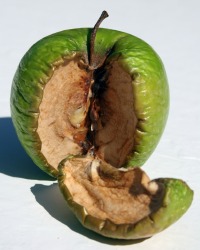 This apple has begun to rot.
interjection
Rot is defined as a way to show annoyance or disgust.

An example of rot used as an interjection is in the following sentences: "Rot! I left my cell phone at home!"
noun
Rot means something decayed or decomposed.

An example of a rot is a moldy, smelly piece of fruit.
verb
Rot is defined as to decay or decompose.

An example of rot is for an apple to go bad.
---
rot
intransitive verb
rot′ted

,

rot′ting
to decompose gradually by the action of bacteria, fungi, etc.; decay; spoil
to fall or pass (off, away, etc.) by decaying
to become unhealthy, sickly, etc.: to rot in prison
to become morally corrupt; degenerate
Origin of rot
Middle English
roten
from Old English
rotian,
akin to Dutch
rotten:
for Indo-European base see rotten
to cause to rot, or decompose
ret
a rotting or being rotten; decay, decomposition, or putrefaction
a rotting or rotten thing or part
any of various diseases; esp., a necrotic inflammatory disease of specific organs or tissues of domestic animals, as foot rot
any of various plant diseases caused by fungi or bacteria and characterized by decay

Slang

nonsense; rubbish; twaddle; bosh
Origin of rot
ME < ON, akin to OE
rotian
nonsense: an exclamation of disgust, contempt, annoyance, etc.
---
rot
verb
rot·ted, rot·ting, rots
verb
intransitive
To undergo decomposition, especially organic decomposition; decay. See Synonyms at decay.

a. To become damaged, weakened, or useless because of decay: The beams had rotted away.

b. To disappear or fall by decaying: One could see the blackened areas where the branches had rotted off.

To deteriorate through neglect or inactivity; languish or decline: "He upset Alice by calling Washington … a sink of boredom and saying he was rotting there" ( John Dos Passos )
To decay morally; become degenerate.
verb
transitive
To cause to decompose or decay.
noun
The process of rotting or the condition of being rotten: The rot spread quickly, rendering the bridge unsafe even for pedestrians.
Foot rot.
Any of several plant diseases characterized by the breakdown of tissue and caused by various bacteria, fungi, or oomycetes.
Pointless talk; nonsense: She always talks such rot.
Archaic Any of various diseases causing the decay of flesh.
Origin of rot
Middle English
roten
from
Old English
rotian
---
rot

Verb
(third-person singular simple present rots, present participle rotting, simple past and past participle rotted)
(intransitive) To suffer decomposition due to biological action, especially by fungi or bacteria.
(intransitive) To decline in function or utility.
(intransitive) To deteriorate in any way.

I hope they all rot in prison for what they've done.

To make putrid; to cause to be wholly or partially decomposed by natural processes.

to rot vegetable fiber

To expose, as flax, to a process of maceration, etc., for the purpose of separating the fiber; to ret.
Origin
From Middle English rotten, roten, from Old English rotian ("to rot, become corrupted, ulcerate, putrefy"), from Proto-Germanic *rutōnÄ… ("to rot"), from Proto-Indo-European *reud- ("to tear"), from *reu- ("to tear, dig, gather"). Cognate with West Frisian rotsje ("to rot"), Dutch rotten ("to rot"), German rößen ("to steep flax") and German verrotten ("to rot"), Icelandic rotna ("to rot"). See rotten.
---
rot - Computer Definition
---