noun
The definition of a building is a structure or the process of making a structure.

An example of a building is a school.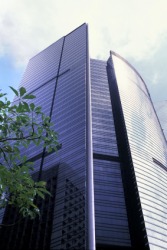 A modern office building.
---
building definition by Webster's New World
noun
anything that is built with walls and a roof, as a house or factory; structure
the act, process, work, or business of constructing houses, ships, etc.
Webster's New World College Dictionary Copyright © 2010 by Wiley Publishing, Inc., Cleveland, Ohio. Used by arrangement with John Wiley & Sons, Inc.
---
building definition by American Heritage Dictionary
noun
Something that is built, as for human habitation; a structure.
The act, process, art, or occupation of constructing.
building
Variant of build
transitive verb
built or

Archaic

builded, building
to make by putting together materials, parts, etc.; construct; erect
to order, plan, or direct the construction of

to make a basis for; establish: to build a theory on facts
to cause to be or grow; create or develop: often with up: to build good will, to build up a business
Origin: Middle English bilden ; from Old English byldan, to build ; from base of bold, a house, akin to Old Norse bua: see bondage
intransitive verb
to put up a building
to have a house, etc. built

to be in the business of building houses, etc.
to increase in amount, force, etc.; grow or intensify: often with up
to depend or be based (on): this theory builds on others
noun
the way a thing is built or shaped; form or figure: a stocky build