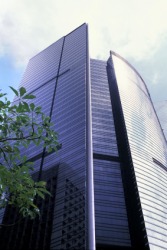 A modern office building.
noun
The definition of a building is a structure or the process of making a structure.

An example of a building is a school.
---
building
anything that is built with walls and a roof, as a house or factory; structure
the act, process, work, or business of constructing houses, ships, etc.
---
building
noun
Something that is built, as for human habitation; a structure.
The act, process, art, or occupation of constructing.
---
building

Noun
(plural buildings)
(uncountable) The act or process of building.

The building of the bridge will be completed in a couple of weeks.
Verb
Present participle of build.
---