theater

the·a·ter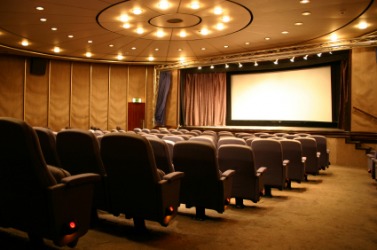 An empty movie theater.
noun
Theater is defined as a building where plays are performed or movies are shown, or refers to performances of plays, or to a career of performing in plays.
A building with multiple screens where movies are shown is an example of a movie theater.
Going to see a play is an example of going to the theater.
A person who stars in movies and plays is an example of someone who is in theater.
---
theater
or the′a·tre
a place where plays, operas, films, etc. are presented; esp., a building or outdoor structure expressly designed for such presentations
any place resembling a theater, esp. a lecture hall, surgical clinic, etc., having the floor of the seating space raked
any place where events take place; scene of operations; specif., an area of military operations, as in a war: a commander in the Southern Pacific theater

the dramatic art or dramatic works; drama
the theatrical world; people engaged in theatrical activity
the legitimate theater, as distinguished from films, TV, etc.: often with the

theatrical technique, production, etc. with reference to its effectiveness: a play that is good theater
a showy, affected, or melodramatic display, situation, etc. thought of as being like a theatrical performance
Origin of theater
Middle English
theatre
from Old French from Classical Latin
theatrum
from Classical Greek
theatron
from base of
theasthai,
to see, view from Indo-European base an unverified form
dh?u-,
to see from source Classical Greek
thauma,
miracle
---
theater
or the·a·tre
noun
A building, room, or outdoor structure for the presentation of plays, films, or other dramatic performances.
A room with tiers of seats used for lectures or demonstrations: an operating theater at a medical school.

a. Dramatic literature or its performance; drama: the theater of Shakespeare and Marlowe.

b. The milieu of actors and playwrights.

a. The quality or effectiveness of a theatrical production: good theater; awful theater.

b. Dramatic material or the use of such material: "His summation was a great piece of courtroom theater" ( Ron Rosenbaum )

The audience assembled for a dramatic performance.
A place that is the setting for dramatic events.
A large geographic area in which military operations are coordinated: the European theater during World War II.
Origin of theater
Middle English
theatre
from
Old French
from
Latin
theātrum
from
Greek
theātron
from
theāsthai
to watch
from
theā
a viewing
---
theater

Noun
(plural theaters)
A place or building, consisting of a stage and seating, in which an audience gathers to watch plays, musical performances, public ceremonies, and so on.
A region where a particular action takes place; a specific field of action, usually with reference to war.

His grandfather was in the Pacific theater during the war.

A lecture theatre.
(medicine) An operating theatre or locale for human experimentation.

This man is about to die, get him into theater at once!

(US) A cinema.

We sat in the back row of the theater and threw popcorn at the screen.

Drama or performance as a profession or artform.

I worked in the theater for twenty-five years.
Usage notes
The spelling theatre is the main spelling in Commonwealth English, with theater being rare.
In United States English, theater accounts for about 80 percent of usage in the major corpus of usage, COCA.
---