noun
Theater is defined as a building where plays are performed or movies are shown, or refers to performances of plays, or to a career of performing in plays.

A building with multiple screens where movies are shown is an example of a movie theater.
Going to see a play is an example of going to the theater.
A person who stars in movies and plays is an example of someone who is in theater.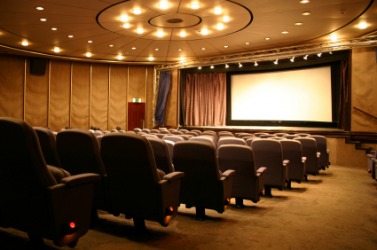 An empty movie theater.
---
theater definition by Webster's New World
or theatre
noun
a place where plays, operas, films, etc. are presented; esp., a building or outdoor structure expressly designed for such presentations
any place resembling a theater, esp. a lecture hall, surgical clinic, etc., having the floor of the seating space raked
any place where events take place; scene of operations; specif., an area of military operations, as in a war: a commander in the Southern Pacific theater

the dramatic art or dramatic works; drama
the theatrical world; people engaged in theatrical activity
the legitimate theater, as distinguished from films, TV, etc.: often with the

theatrical technique, production, etc. with reference to its effectiveness: a play that is good theater
Origin: Middle English theatre ; from Old French ; from Classical Latin theatrum ; from Classical Greek theatron ; from base of theasthai, to see, view ; from Indo-European base an unverified form dhāu-, to see from source Classical Greek thauma, miracle
Webster's New World College Dictionary Copyright © 2010 by Wiley Publishing, Inc., Cleveland, Ohio. Used by arrangement with John Wiley & Sons, Inc.
---
theater definition by American Heritage Dictionary
or the·a·tre
noun
A building, room, or outdoor structure for the presentation of plays, films, or other dramatic performances.
A room with tiers of seats used for lectures or demonstrations: an operating theater at a medical school.

a. Dramatic literature or its performance; drama: the theater of Shakespeare and Marlowe.

b. The milieu of actors and playwrights.

a. The quality or effectiveness of a theatrical production: good theater; awful theater.

b. Dramatic material or the use of such material: "His summation was a great piece of courtroom theater" (Ron Rosenbaum).

The audience assembled for a dramatic performance.
A place that is the setting for dramatic events.
A large geographic area in which military operations are coordinated: the European theater during World War II.
Origin: Middle English theatre, from Old French, from Latin theātrum, from Greek theātron, from theāsthai, to watch, from theā, a viewing.
Word History:
Theories about the development of the theater in the West generally begin with Greek drama; this is etymologically appropriate as well as historically correct, since the words
theory
and
theater
are related through their Greek sources. The Greek ancestor of
theater
is
theātron,
"a place for seeing, especially for dramatic representation, theater."
Theātron
is derived from the verb
theāsthai,
"to gaze at, contemplate, view as spectators, especially in the theater," from
theā,
"a viewing." The Greek ancestor of
theory
is
theōriā,
which meant among other things "the sending of
theōroi
(state ambassadors sent to consult oracles or attend games)," "the act of being a spectator at the theater or games," "viewing," "contemplation by the mind," and "theory or speculation." The source of
theōriā
is
theōros,
"an envoy sent to consult an oracle, spectator," a compound of
theā,
"viewing," and
-oros,
"seeing." It is thus fitting to elaborate theories about culture while seeing a play in a theater.