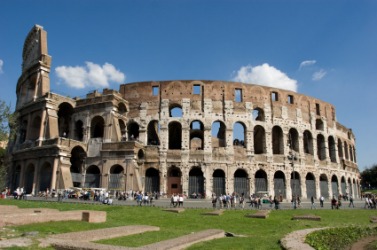 The Colosseum is an ancient arena.
noun
An arena is defined as a place or or location where forces contend or major events unfold.

An example of referring to an arena is to discuss what is happening in the world of entertainment.

The definition of an arena is a large structure used to host a variety of acts of entertainment for the public, or the central part of ancient Roman amphitheaters where gladiator shows took place.

An example of an arena is a building where professional hockey games are played.
---
arena
the central part of an ancient Roman amphitheater, where gladiatorial contests and shows took place

a central area used for entertainment or sports events and usually surrounded by seats
a building containing such an area: an arena for boxing matches

any sphere of struggle or conflict: the arena of politics
the central stage in an arena theater
Origin of arena
Classical Latin
arena, harena
, sand, sandy place, arena
---
arena
noun
a. An enclosed area for the presentation of sports events and spectacles.

b. A building housing such an area.

A place or scene where forces contend or events unfold: withdrew from the political arena; the world as an arena of moral conflict.
The area in the center of an ancient Roman amphitheater where contests and other spectacles were held.
Origin of arena
Latin
harēna, arēna
sand, a sand-strewn place of combat in an amphitheater
Sabine
fasēna
sand
perhaps ultimately of Etruscan origin
---
arena

Noun
(plural arenas or arenæ)
An enclosed area, often outdoor, for the presentation of sporting events (sports arena) or other spectacular events; earthen area, often oval, specifically for rodeos (N. America) or circular area for bullfights (especially Hispanic America).

A large crowd filled the seats of the arena.

The building housing such an area.

The arena is grey with white beams.

(historical) The sand-covered centre of an amphitheatre where contests were held in Ancient Rome.

The gladiators entered the arena.

A realm in which important events unfold.

The company was a player in the maritime insurance arena.
---