noun
The definition of an arena is a large structure used to host a variety of acts of entertainment for the public, or the central part of ancient Roman amphitheaters where gladiator shows took place.

An example of an arena is a building where professional hockey games are played.

An arena is defined as a place or or location where forces contend or major events unfold.

An example of referring to an arena is to discuss what is happening in the world of entertainment.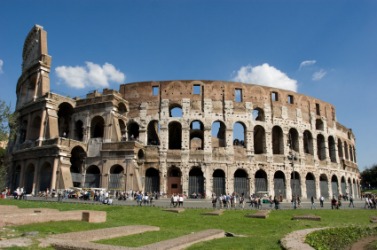 The Colosseum is an ancient arena.
---
arena definition by Webster's New World
noun
the central part of an ancient Roman amphitheater, where gladiatorial contests and shows took place

a central area used for entertainment or sports events and usually surrounded by seats
a building containing such an area: an arena for boxing matches

any sphere of struggle or conflict: the arena of politics
the central stage in an arena theater
Origin: Classical Latin arena, harena, sand, sandy place, arena
Webster's New World College Dictionary Copyright © 2010 by Wiley Publishing, Inc., Cleveland, Ohio. Used by arrangement with John Wiley & Sons, Inc.
---
arena definition by American Heritage Dictionary
noun
a. An enclosed area for the presentation of sports events and spectacles.

b. A building housing such an area

A place or scene where forces contend or events unfold: withdrew from the political arena; the world as an arena of moral conflict.
The area in the center of an ancient Roman amphitheater where contests and other spectacles were held.
Origin: Latin harēna, arēna, sand, a sand-strewn place of combat in an amphitheater, perhaps of Etruscan origin.
Word History:
Fans watching contact sports such as boxing, hockey, or football in modern arenas might be struck by the connection between the word
arena
and the notion of gladiatorial combat. This word is from Latin
harēna
(also spelled
arēna
), "sand."
Harēna
then came to mean the part of a Roman amphitheater that was covered with sand to absorb the blood spilled by the combatants.
Arena
is first recorded in English during the 17th century, denoting this area of a Roman amphitheater.