noun
The definition of a field is a large open space, often where sports are played, or an area where there is a certain concentration of a resource.

An example of a field is the area at the park where kids play baseball.
An example of a field is an area where there is a large amount of oil.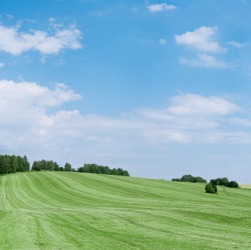 A field of grass.
---
field
noun
a wide stretch of open land; plain
a piece of cleared land, set off or enclosed, for raising crops or pasturing livestock
a piece of land used for some particular purpose: a landing field
an area of land producing some natural resource: a gold field
any wide, unbroken expanse: a field of ice

a battlefield
a battle

an area of military operations
a military area away from the post or headquarters

an area where practical work is done, as by a social worker, geologist, etc., away from the central office, laboratory, or the like: usually with the: camping equipment tested in the field
a realm of knowledge or of special work or opportunity: the field of electronics

an area of observation, as in a microscope
the background, as on a flag or coin

an area where games or athletic events are held
the part of such an area, usually inside a closed racing track, where contests in the high jump, long jump, shot put, pole vault, etc. are held
☆ in baseball, any part of the outfield: a batter who hits to all fields
all the entrants in a contest
all the entrants in a contest except the one(s) specified

Comput.

any of the units of storage that are grouped to form a record ()

Heraldry

the surface or part of the surface of a shield

Horse Racing

those horses, in a race with more than twelve entrants, that are grouped together to function as a unit for betting purposes

Math.

a set of numbers or other algebraic elements for which arithmetic operations (except for division by zero) are defined in a consistent manner to yield another element of the set

Physics

a region, volume, or space where a specific, measurable force, as gravity or magnetism, exists

TV

the area viewed by the camera
the area that the scanning element covers in one vertical sweep
Origin of field
Middle English
feld
; from Old English akin to German
feld
, Dutch
veld
; from Indo-European an unverified form
pelt-
; from base an unverified form
pele-
, an unverified form
pla-
, flat and broad from source Classical Latin
planus
, plane, Classical Greek
palamē
, flat hand
adjective
of, operating in, or held on the field or fields
growing in fields; having a field as its habitat
transitive verb
Baseball, Cricket

to catch (a batted or thrown ball)
to put (a team or player) in the field for a game or competition

to position in a given location: to field an army

Informal

to answer (a question) extemporaneously
to deal with; handle: to field phone calls
intransitive verb
Baseball, Cricket
to play as a fielder
keep the field
or
hold the field
to continue activity, as in games or military operations
play the field
☆
to take a broad area of operations; not confine one's activities to one object

Informal

to date more than one person during the same period of time
take (or leave) the field
to begin (or withdraw from) activity in a game, military operation, etc.
Field, Cyrus West 1819-92; U.S. industrialist: promoted the first transatlantic cable

Field, Eugene 1850-95; U.S. journalist & poet
---
field
noun
a. A broad, level, open expanse of land.

b. A meadow: cows grazing in a field.

c. A cultivated expanse of land, especially one devoted to a particular crop: a field of corn.

d. A portion of land or a geologic formation containing a specified natural resource: a copper field.

e. A wide unbroken expanse, as of ice.

a. A battleground.

b. Archaic A battle.

c. The scene or an area of military operations or maneuvers: officers in the field.

a. A background area, as on a flag, painting, or coin: a blue insignia on a field of red.

b. Heraldry The background of a shield or one of the divisions of the background.

a. An area or setting of practical activity or application outside an office, school, factory, or laboratory: biologists working in the field; a product tested in the field.

b. An area or region where business activities are conducted: sales representatives in the field.

Sports

a. An area in which an athletic event takes place, especially the area inside or near to a running track, where field events are held.

b. In baseball, the positions on defense or the ability to play defense: She excels in the field.

c. In baseball, one of the three sections of the outfield: He can hit to any field.

A range, area, or subject of human activity, interest, or knowledge: several fields of endeavor.

a. The contestants or participants in a competition or athletic event, especially those other than the favorite or winner.

b. The body of riders following a pack of hounds in hunting.

c. The people running in an election for a political office: The field has been reduced to three candidates.

Mathematics A set of elements having two operations, designated addition and multiplication, satisfying the conditions that multiplication is distributive over addition, that the set is a group under addition, and that the elements with the exception of the additive identity form a group under multiplication.
Physics A region of space characterized by a physical property, such as gravitational or electromagnetic force or fluid pressure, having a determinable value at every point in the region.
The usually circular area in which the image is rendered by the lens system of an optical instrument. Also called field of view.
Computers

a. An element of a database record in which one piece of information is stored.

b. A space, as on an online form or request for information, that accepts the input of text: an address field.
adjective
Growing, cultivated, or living in fields or open land.
Made, used, or carried on in the field: field operations.
Working, operating, or active in the field: field representatives of a firm.
verb
field·ed
,
field·ing
,
fields
verb
, transitive
a. Sports To catch or pick up (a ball) and often make a throw to another player, especially in baseball.

b. To respond to or deal with: fielded tough questions from the press.

a. Sports To place in the playing area: field a team.

b. To nominate in an election: field a candidate.

c. To put into action; deploy: field an army of campaign workers.

To enter (data) into a field.
verb
, intransitive
Sports
To play as a fielder: How well can he field?
Origin of field
Middle English
feld
, from Old English; see
pel&schwa;-
2
in Indo-European roots.
---
field
Noun
(plural fields)
​A land area free of woodland, cities, and towns; open country.

There are several species of wild flowers growing in this field.

​A wide, open space that is usually used to grow crops or to hold farm animals.

There were some cows grazing in a field.
A crop circle was made in a corn field.

Lord Byron (1788-1824)

fields which promise corn and wine

The open country near or belonging to a town or city -- usually used in plural.
​A physical phenomenon, such as force, potential, or fluid velocity, that pervades a region.

magnetic field;   gravitational field

​A course of study or domain of knowledge or practice.

2013 May 10, Audrey Garric, "Urban canopies let nature bloom", The Guardian Weekly, volume 188, number 22, page 30: 

As towns continue to grow, replanting vegetation has become a form of urban utopia and green roofs are spreading fast. Last year 1m square metres of plant-covered roofing was built in France, as much as in the US, and 10 times more than in Germany, the pioneer in this field.

He was an expert in the field of Chinese history.

An area that can be seen at a given time.

field of view

​A place where a battle is fought; a battlefield.
​An area reserved for playing a game.

soccer field
Substitutes are only allowed onto the field after their boots are checked.

A realm of practical, direct, or natural operation, contrasting with an office, classroom, or laboratory.

The design needs to be field-tested before we commit to manufacture.
Field work traditionally distinguishes true archaeologists from armchair archaeologists.
He needs some time in the field before his judgment can be trusted.

​(algebra) A commutative ring with identity for which every nonzero element has a multiplicative inverse.

The set of rational numbers, is the prototypical field.

​(geology) A region containing a particular mineral.

oil field;   gold field

​(heraldry) The background of the shield
​(computing) An area of memory or storage reserved for a particular value.
A component of a database record in which a single unit of information is stored.
A physical or virtual location for the input of information in the form of characters.

The form has fields for each element of the customer's home address and ship-to address.

(baseball) The outfield.
An unrestricted or favourable opportunity for action, operation, or achievement.
All of the competitors in any outdoor contest or trial, or all except the favourites in the betting.

This racehorse is the strongest in a weak field.
Usage notes
In the mathematical sense, some languages, such as French, use a term that literally means "body". This denotes a division ring or skew field, not necessarily commutative. If it is clear from context that the quaternions and similar division rings are irrelevant, or that all division rings being considered are finite and therefore fields, this difference is ignored.
Verb
(third-person singular simple present fields, present participle fielding, simple past and past participle fielded)
(sports) To intercept or catch (a ball) and play it.
(baseball, softball, cricket, and other batting sports) To be the team catching and throwing the ball, as opposed to hitting it.

The blue team are fielding first, while the reds are batting.

(sports) To place a team in (a game).

The away team fielded two new players and the second-choice goalkeeper.

They fielded a fearsome army.
Origin
From Middle English field, feeld, feld, from Old English feld ("field; open or cultivated land, plain; battlefield"), from Proto-Germanic *felþuz, *felþaz, *felþą ("field"), from Proto-Indo-European *pelh₂- ("field, plain"). Cognate with Scots feld, feild ("field"), North Frisian fjild ("field"), West Frisian fjild ("field"), Dutch veld ("field"), German Feld ("field"), Swedish fält ("field"). Related also to Old English folde ("earth, land, territory"), Old English folm ("palm of the hand"). More at fold.
---
field - Computer Definition
---
A physical structure in a form, file or database that holds data. A field is one or more bytes in size. A collection of fields makes up a data record; for example, ORDER #, NAME, ADDRESS, CITY, etc. The terms field and "box" are often used synonymously such as a "search field" or "search box" on a Web page. The field is the common denominator for database searches. For example, the STATE field is referenced when the query to find "all customers who live in Florida" is made to a database. When totaling transactions, the ORDER_AMOUNT field is summed. JOB_TITLE is referenced when looking for certain employees. Fields, Data Elements and Data Items Although often used interchangeably, there are several terms that refer to the same unit of storage in a data record. A "data element" is the logical definition of the field, while a "data item" is the actual data stored in the field. For example, for each CITY data element defined in a record, there are many CITY fields (structures) in the database that hold the data items (New York, Chicago, Phoenix, etc.).
---