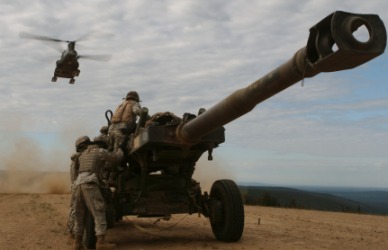 An example of field artillery.
---
field artillery
movable artillery capable of accompanying an army into battle
---
field artillery
noun
Artillery other than antiaircraft artillery that is light enough to be mounted for use in the field.
---
field artillery
Noun
(plural field artilleries)
The part of an army's artillery which consists of (light) fieldpieces (canons, howitzers) which are mobile enough to deploy on the (battle) field, as opposed to the fixed guns in fortifications or naval artillery; usually excludes antiaircraft.
---