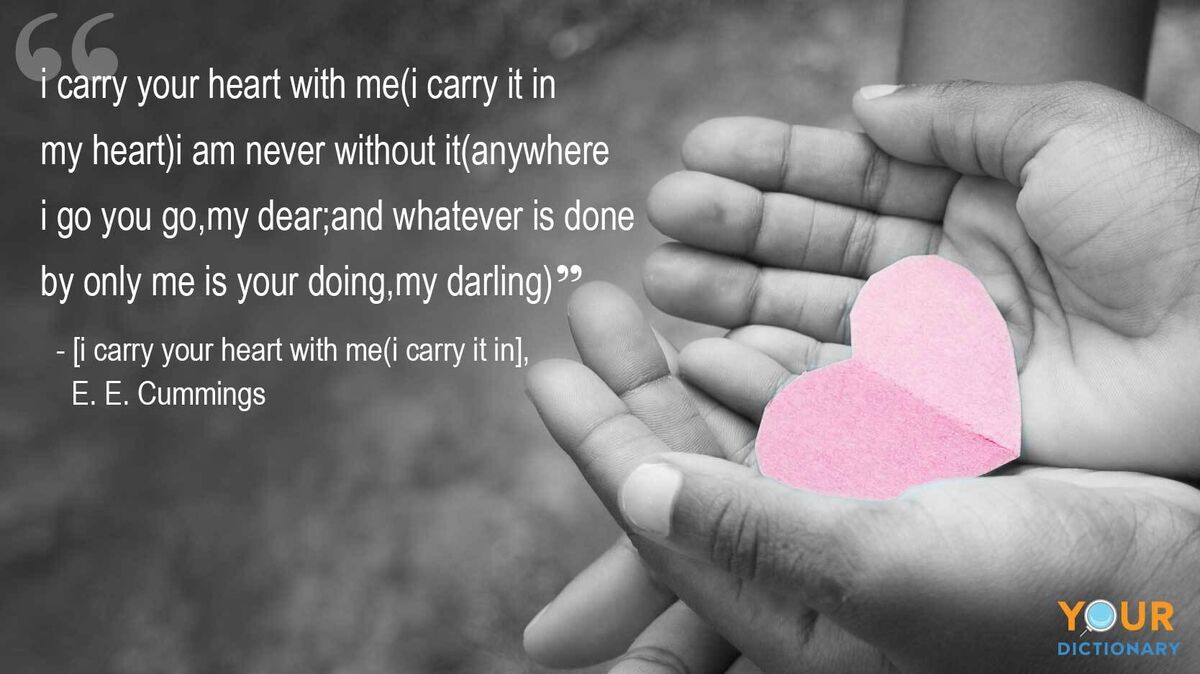 Are you looking for the best short love poems you can easily send in a message or write in a card? You've come to the right place. A love poem can be brief and still express to someone how much you love them. Short, sweet love poems can be used for birthdays, Valentine's Day or for any occasion where you want to show a loving sentiment in a creative yet succinct way. Explore famous short love poem examples and learn how to write your own.
Many famous love poems are quite long, but you can still find some short romance poems from famous poets. Dive into some famous short love poem examples.
A Glimpse by Walt Whitman
"A Glimpse" by Walt Whitman is not very romantic, but it does demonstrate how important love is in our lives.
"A glimpse through an interstice caught,
Of a crowd of workmen and drivers in a bar-room around the stove late of a winter night, and I unremark'd seated in a corner,
Of a youth who loves me and whom I love, silently approaching and seating himself near, that he may hold me by the hand,
A long while amid the noises of coming and going, of drinking and oath and smutty jest,
There we two, content, happy in being together, speaking little, perhaps not a word."
To Lose Thee, Sweeter Than to Gain by Emily Dickinson
"To Lose Thee, Sweeter Than to Gain" by Emily Dickinson succinctly expresses the sentiment that it's better to have loved and lost than never loved at all.
"To lose thee, sweeter than to gain
All those hearts I knew.
It is true the drought is destitute,
But then I had a dew!
The Caspian has its realms of sand,
Its other realm of sea;
Without the sterile prerequisite
No Caspian could be."
My Love Is Like a Red, Red Rose by Robert Burns
"My Love is Like a Red, Red Rose" by renowned poet Robert Burns is not the shortest poem, but it certainly is sweet.
"O my Luve's like a red, red rose
That's newly sprung in June;
O my Luve's like the melodies
That's sweetly played in tune.
As fair art thou, my bonnie lass,
So deep in luve am I;
And I will luve thee still, my dear,
Till a' the seas gang dry:
Till a' the seas gang dry, my dear,
And the rocks melt wi' the sun;
I will luve thee still, my dear,
While the sands o' life shall run.
And fare thee weel, my only Luve,
And fare thee weel awhile!
And I will come again, my Luve,
Tho' it ware ten thousand mile."
How Do I Love You? by Mary Oliver
Mary Oliver also had her own take on love. See how she wove words of love through "How Do I Love You?"
"How do I love you?
Oh, this way and that way.
Oh, happily. Perhaps
I may elaborate by
demonstration? Like
this, and
like this and
no more words now"
Sonnet LXXIII: Maybe You'll Remember by Pablo Neruda
Famous poet Pablo Neruda created some fantastic works of love through his poetry. Explore one of his shorter examples, "Maybe You'll Remember."
"Maybe you'll remember that razor-faced man
who slipped out from the dark like a blade
and - before we realized - knew what was there:
he saw the smoke and concluded fire.
The pallid woman with black hair
rose like a fish from the abyss,
and the two of them built up a contraption,
armed to the teeth, against love.
Man and woman, they felled mountains and gardens,
then went down to the river, they scaled the walls,
they hoisted their atrocious artillery up the hill.
Then love knew it was called love.
And when I lifted my eyes to your name,
suddenly your heart showed me my way."
Romance by Edgar Allan Poe
Edgar Allan Poe created several works of love. Explore this shorter love poem by Poe called "Romance."
"Romance, who loves to nod and sing,
With drowsy head and folded wing,
Among the green leaves as they shake
Far down within some shadowy lake,
To me a painted paroquet
Hath been—a most familiar bird—
Taught me my alphabet to say—
To lisp my very earliest word
While in the wild wood I did lie,
A child—with a most knowing eye.
Of late, eternal Condor years
So shake the very Heaven on high
With tumult as they thunder by,
I have no time for idle cares
Through gazing on the unquiet sky.
And when an hour with calmer wings
Its down upon my spirit flings—
That little time with lyre and rhyme
To while away—forbidden things!
My heart would feel to be a crime
Unless it trembled with the strings."
I Carry Your Heart With Me (I Carry It In) by E. E. Cummings
A true wordsmith, E. E. Cummings is known for his iconic poetry. Dive into this love poem for the ages.
"i carry your heart with me(i carry it in
my heart)i am never without it(anywhere
i go you go,my dear;and whatever is done
by only me is your doing,my darling)
i fear
no fate(for you are my fate,my sweet)i want
no world(for beautiful you are my world,my true)
and it's you are whatever a moon has always meant
and whatever a sun will always sing is you

here is the deepest secret nobody knows
(here is the root of the root and the bud of the bud
and the sky of the sky of a tree called life;which grows
higher than soul can hope or mind can hide)
and this is the wonder that's keeping the stars apart

i carry your heart(i carry it in my heart)"
Let Me Not to Marriage of True Minds by William Shakespeare
William Shakespeare is known for his plays on love, but he often ventured into the realm of poetry too. See how Shakespeare spoke about love in one of his many love poems, "Sonnet 116."
"Let me not to the marriage of true minds
Admit impediments. Love is not love
Which alters when it alteration finds,
Or bends with the remover to remove.
O no! it is an ever-fixed mark
That looks on tempests and is never shaken;
It is the star to every wand'ring bark,
Whose worth's unknown, although his height be taken.
Love's not Time's fool, though rosy lips and cheeks
Within his bending sickle's compass come;
Love alters not with his brief hours and weeks,
But bears it out even to the edge of doom.
If this be error and upon me prov'd,
I never writ, nor no man ever lov'd."
The Falling of Leaves by W.B. Yeats
William Butler Yeats was a wordsmith of his time and considered among the greatest of poets. Learn how he spun words on the topic of love in "The Falling of the Leaves."
"Autumn is over the long leaves that love us,
And over the mice in the barley sheaves;
Yellow the leaves of the rowan above us,
And yellow the wet wild-strawberry leaves.

The hour of the waning of love has beset us,
And weary and worn are our sad souls now;
Let us part, ere the season of passion forget us,
With a kiss and a tear on thy drooping brow."
The Garden of Love by William Blake
Mastery of words can be hard. This is especially true when that subject is love. One of the word weaving greats, William Blake, didn't seem to have an issue when it came to the topic of love. Examine this short poem on the topic, "The Garden of Love."
"I went to the Garden of Love,
And saw what I never had seen:
A Chapel was built in the midst,
Where I used to play on the green.
And the gates of this Chapel were shut,
And Thou shalt not. writ over the door;
So I turn'd to the Garden of Love,
That so many sweet flowers bore.
And I saw it was filled with graves,
And tomb-stones where flowers should be:
And Priests in black gowns, were walking their rounds,
And binding with briars, my joys & desires."
Fire and Ice by Robert Frost
Is love fire or ice? Well, Robert Frost explores this question in his masterpiece "Fire and Ice."
"Some say the world will end in fire,
Some say in ice.
From what I've tasted of desire
I hold with those who favor fire.
But if it had to perish twice,
I think I know enough of hate
To say that for destruction ice
Is also great
And would suffice."
Everyone has a different definition of what are short, sweet love poems. Some short love poems can be just a few lines.
Forever Love by Sandy Maloof
Haikus are some of the shortest poems available since they are only three lines long. Here is a love haiku by Sandy Maloof called "Forever Love."
"Friends forever in time
Bonded by our hearts and souls
Love forever lasting!"

Idle Dreams by Joanna Fuchs
The website Poem Source has a page devoted to short love poems. Here's an example of one, "Idle Dreams" by Joanna Fuchs.
"In idle dreams of long ago,
I imagined my true love;
A perfect match, a soulmate,
An angel from above.
Now you're here, and now I know
Our love will stay and thrive and grow."
Write Your Own Expression of Love
Often, the best place to find a short, sweet love poem is to write your own. A short poem can be a simple but lovely way to say I love you. It doesn't have to be long, and it doesn't even have to rhyme or be formally written. Just think about what the person means to you and how they make you feel, and try to put that into words of love. Check out these original love poem examples to spark your ideas.
Oh How I Love You by Jennifer Betts
Using the famous phrase "roses are red, violets are blue" can be a great start to getting your creative juices flowing.
"Roses are red
Violets are blue
When I see your face,
Oh how I love you.
I think of you all day.
And nightly too.
You make me smile.
Oh how I love you."
Love of My Life by Jennifer Betts
Poems don't have to rhyme, but it can be fun if they do. It's easy to rhyme words like you and too. So get a bit creative and figure out a way to end with these words like in this simple poem.
"When I think of you.
I know you think of me too.
Our life is like a dream.
A beautiful moon beam.
Keep me in your heart.
So that we will never part."
It's easy to find examples of short love poems. You can even find famous short love poem examples. But if those aren't fitting your style, try your hand at creating one of your own. These don't need to be in English either. For some loving words in Spanish, you'll find common expressions and sayings of love and romantic songs and poems in love poems and quotes in Spanish.