handle

han·dle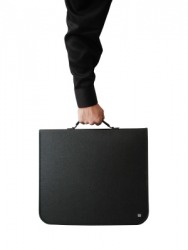 A person holds a case by its handle.
noun
The definition of a handle is a part of something used for holding it.

An example of a handle is the part of the suitcase that one holds.
verb
Handle is defined as to hold or deal with something.

An example of to handle is to hold a baby animal.
An example of to handle is to manage a difficult work situation.
---
handle
that part of a utensil, tool, etc. which is to be held, turned, lifted, pulled, etc. with the hand
a thing like a handle in appearance or use
the total amount of money bet over a specified period of time, as at a racetrack

Slang

a person's name, nickname, or title
Origin of handle
Middle English
handil
from Old English
handle
(akin to Dutch
handel
) from
hand
, hand
transitive verb
-·dled

,

-·dling
to touch, lift, etc. with the hand or hands
to manage, operate, or use with the hand or hands; manipulate
to manage, control, direct, train, etc.

to deal with or treat in a particular way: to handle a problem tactfully
to deal with successfully or appropriately

Informal

to come to terms with psychologically: he just can't handle it

to sell or deal in (a certain commodity)
to behave toward; treat
Origin of handle
ME
handlien
< OE
handlian
to respond or submit to control: the car handles well
fly off the handle
Informal
to become suddenly or violently angry or excited
get a handle on
Informal
to find a means of dealing with, understanding, etc.
---
handle
verb
han·dled, han·dling, han·dles
verb
transitive
To touch, lift, or hold with the hands: You should wash your hands before you handle food.
To operate with the hands; manipulate: can handle a jigsaw.
To deal with or have responsibility for; conduct: handles matters of corporate law.
To cope with or dispose of: handles problems efficiently.

a. To direct, execute, or dispose of: handle an investment.

b. To manage, administer to, or represent: handle a boxer.

To deal or trade in the purchase or sale of: a branch office that handles grain exports.
verb
intransitive
To act or function in a given way while in operation: a car that handles well in the snow.
noun
A part that is designed to be held or operated with the hand: the handle of a suitcase; the handle of a faucet.
A means of understanding or control: has a handle on the situation.

a. Slang A person's name.

b. An alternate name or nickname, especially one chosen for self-identification on online forums or citizens band radio.

Games The total amount of money bet on an event or over a set period of time.
Origin of handle
Middle English
handelen
from
Old English
handlian
Related Forms:
---
handle

---
handle - Computer Definition
(1) Slang for a nickname, pseudonym, alias or username. For example, a Twitter handle is how people identify themselves on Twitter. For decades, "CB handles" have been the short but unique identities truck drivers use over citizens' band radio (see CB radio).
(2) A temporary name or number assigned to a file, font or other object. For example, an operating system may assign a sequential number to each file that it opens as a way of identifying it.
(3) In computer graphics, a tiny, square block on an image that can be grabbed for reshaping.
---
handle - Investment & Finance Definition
The largest number in a price or index value. For instance, if the S&P 500 is at 860, traders talk about the "8" handle. If a foreign exchange dealer quotes a price for dollar/yen as 85/95, the dealer means he or she would sell it at 120.85 and buy it at 120.95. The handle of 120 would be left out. Handle is a form of short-hand that traders use to save time; in the examples above, suppose that it is general knowledge that the S&P 500 is 800-something or that dollar-yen is 120-something. Communicating those two pieces of information would waste time in a quick trading conversation.
---