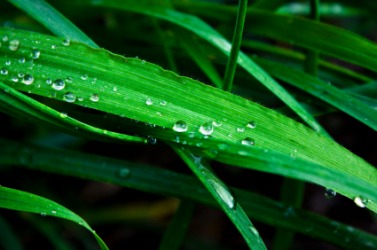 Blades of grass.
---
blade
noun
the leaf of a plant, esp. of grass
the flat, expanded part of a leaf; lamina

a broad, flat section or surface, as of an oar, propeller arm, or rotary vane
the propeller arm or rotary vane itself

a flat bone: the shoulder blade
the cutting part of a tool, instrument, or weapon
the metal runner of an ice skate
a sword
a swordsman

Old-fashioned

a dashing young man

Phonet.

the flat part of the tongue, behind the tip
Origin of blade
Middle English
blad
; from Old English
blæd
, a leaf ; from Indo-European an unverified form
bhlē-,
variant, variety of base an unverified form
bhel-
, to swell, sprout: see bloom
adjective
designating or of a chop, roast, etc., as of beef or veal, that is cut across the shoulder blade section
---
blade
noun
The flat cutting part of a sharpened weapon or tool.

a. A sword.

b. A swordsman.

Archaeology A slender, sharp-edged flake that is at least twice as long as it is wide.
A dashing youth.

a. A flat thin part or section, especially one that makes contact to perform a desired action: the blade of an oar; the blade of a hockey stick.

b. An arm of a rotating mechanism: the blade of a propeller; the blade of a food processor.

c. A long, thin, often curved piece, as of metal or rubber, used for plowing, clearing, or wiping.

The metal runner of an ice skate.
A wide flat bone or bony part.
The flat upper surface of the tongue just behind the tip.
Botany

a. The expanded part of a leaf or petal.

b. The leaf of grasses or similar plants.
intransitive verb
blad·ed
,
blad·ing
,
blades
To skate on in-line skates.
Origin of blade
Middle English, from Old English
blæd
; see
bhel-
3
in Indo-European roots.
Related Forms:
---
blade
---
blade - Computer Definition
One component in a system that is designed to accept some number of components (blades). Blades can be individual servers or clients that plug into a single cabinet or individual port cards that add connectivity to a switch. A blade is typically a hot swappable hardware device, but a software architecture could use the blade terminology as well. See blade server and blade PC.
---