noun
The edge is defined as the outside edge of an area, the sharp end of something or to a point right before something happens.

An example of edge is the perimeter of the yard right before where you put your fence.
An example of edge is the area right before a cliff begins.
An example of edge is the sharp side of a knife.
An example of edge is the time right before you fall in love.
verb
To edge is defined as to give something a border or to slowly move in a specific direction.

An example of edge is when you attach a fancy border onto a pillow.
An example of edge is when you slowly inch forward.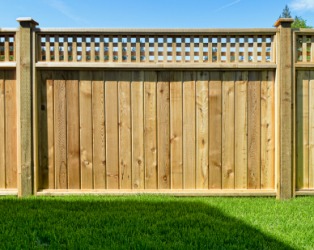 This fence is on the edge of the yard.
---
edge
noun
the thin, sharp, cutting part of a blade
the quality of being sharp or keen
the projecting ledge or brink, as of a cliff
the part farthest from the middle; line where something begins or ends; border, or part nearest the border; margin
the verge or brink, as of a condition
an intense, harsh, or irritable quality: his voice had a distinct edge

Geom.

a line or line segment at which two plane surfaces meet
☆

Informal

advantage: you have an edge on me

Informal

the quality of being edgy (sense )
Origin of edge
Middle English
egge
; from Old English
ecg
, akin to Old Norse
egg,
German
ecke
, corner ; from Indo-European base an unverified form
ak-
, sharp: see acid
transitive verb
edged, edging
to form or put an edge on; provide an edge for
to trim the edge of

to make (one's way) sideways, as through a crowd
to move gradually or cautiously

Informal

to defeat in a contest by a narrow margin: often with out
☆

Skiing

to tilt (a ski) so that one edge bites into the snow, as in traversing a slope
intransitive verb
to move sideways
to move gradually or cautiously: to edge away from danger
on edge
so tense or nervous as to be easily upset; irritable
eager; impatient
set someone's teeth on edge
to give a sensation of tingling discomfort, as the sound of a fingernail scraped on a slate does
to irritate; provoke
take the edge off
to dull the intensity, force, or pleasure of
---
edge
noun
a. A thin, sharpened side, as of the blade of a cutting instrument.

b. The degree of sharpness of a cutting blade.

c. A penetrating, incisive quality: "His simplicity sets off the satire, and gives it a finer edge" (William Hazlitt).

d. A slight but noticeable sharpness, harshness, or discomforting quality: His voice had an edge to it.

e. Keenness, as of desire or enjoyment; zest: The brisk walk gave an edge to my appetite.

a. The line or area farthest away from the middle:

lifted the carpet's edge.

See Synonyms at

border

.

b. The line of intersection of two surfaces: the edge of a brick.

c. A rim or brink: the edge of a cliff.

d. The point at which something is likely to begin: on the edge of war.

A margin of superiority; an advantage: a slight edge over the opposition.
verb
edged
edged
,
edg·ing
,
edg·es
verb
, transitive
a. To give an edge to (a blade); sharpen.

b. To tilt (a ski or both skis) in such a way that an edge or both edges bite into the snow.

a. To put a border or edge on: edged the quilt with embroidery.

b. To act as or be an edge of: bushes that edged the garden path.

To advance or push slightly or gradually: The dog edged the ball with its nose.
To trim or shape the edge of: edge a lawn.
To surpass or beat by a small margin. Often used with out: The runner edged her opponent out at the last moment.
verb
, intransitive
To move gradually or hesitantly: The child edged toward the door.
Origin of edge
Middle English
egge
, from Old English
ecg
; see
ak-
in Indo-European roots.
Related Forms:
---
edge
Noun
(plural edges)
(geometry) A one-dimensional face of a polytope. In particular, the joining line between two vertices of a polygon; the place where two faces of a polyhedron meet.
An advantage.

I have the edge on him.

(also figuratively) The thin cutting side of the blade of an instrument, such as an ax, knife, sword, or scythe; that which cuts as an edge does, or wounds deeply, etc.
A sharp terminating border; a margin; a brink; an extreme verge.

The cup is right on the edge of the table.
He is standing on the edge of a precipice.

Sharpness; readiness or fitness to cut; keenness; intenseness of desire.
The border or part adjacent to the line of division; the beginning or early part; as, in the edge of evening.
(cricket) A shot where the ball comes off the edge of the bat, often unintentionally.
In male masturbation, a level of sexual arousal that is maintained just short of reaching the point of inevitability, or climax; see also edging.
Verb
(third-person singular simple present edges, present participle edging, simple past and past participle edged)
To move an object slowly and carefully in a particular direction.

He edged the book across the table.

(intransitive) To move slowly and carefully in a particular direction.

He edged away from her.

(cricket) To hit the ball with an edge of the bat, causing a fine deflection.
To trim the margin of a lawn where the grass meets the sidewalk, usually with an electric or gas-powered lawn edger.
To furnish with an edge; to construct an edging.
To furnish with an edge, as a tool or weapon; to sharpen.
(figuratively) To make sharp or keen; to incite; to exasperate; to goad; to urge or egg on.
(intransitive) To delay one's orgasm so as to remain almost at the point of orgasm.
Origin
Middle English egge, from Old English ecg, from Proto-Germanic *agjō (compare Dutch egge, German Ecke, Swedish egg), from Proto-Indo-European *h₂eḱ- ("sharp") (compare Welsh hogi ("to sharpen, hone"), Latin aciēs ("sharp"), acus ("needle"), Latvian ašs, ass ("sharp"), Ancient Greek ἀκίς (akis, "needle"), ἀκμή (akmē, "point"), and Persian آس (ās, "grinding stone")).
---
edge - Computer Definition
Originally, Enhanced Data rates for Global Evolution.A 2.5G standard (1999) developed by the European Telecommunications Standards Institute (ETSI) as the final stage in the evolution of data communications within the Global System for Mobile Communications (GSM) standards. The only IMT-2000 specification based on time division multiple access (TDMA) rather than code division multiple access (CDMA), EDGE supports data transmission rates up to 473.6 kbps over GSM channels 200 kHz wide through an improved modulation technique known as 8-Phase Shift Keying (8-PSK), which involves eight levels of phase shift and, therefore, supports three bits per symbol. EDGE employs frequency division duplex (FDD) to support bidirectional communications over 124 channels, each of which supports 8 time slots. EDGE supports two modes of operation:
---
(Enhanced Data rates for Global Evolution - or GSM Evolution) A 2.5G digital data service provided by GSM cellular carriers worldwide, including AT&T and T-Mobile in the U.S. Also called "Enhanced GPRS" (EGPRS), EDGE works on EDGE cellphones as well as laptops and portable devices that have EDGE modems. Superseding the GPRS data service, EDGE users have experienced downstream data rates up to 200 Kbps. See cellular generations, cellular vs. Wi-Fi, GSM, GPRS, TDMA and UWC-136.
---