noun
The definition of brink is the edge of something steep, or the point right before something unpleasant is about to happen.

When a disaster is about to occur, this is an example of a time when you are on the brink of disaster.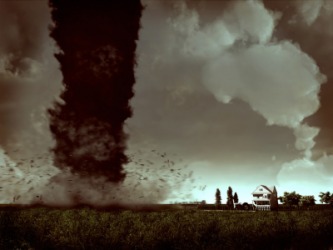 A farmhouse on the brink of disaster.
---
brink definition by Webster's New World
noun
the edge, esp. at the top of a steep place; verge: often used figuratively: at the brink of war
the bank, esp. when steep, of a river or other body of water
Origin: Middle English ; from Middle Low German or Danish shore, bank, grassy edge; probably ; from Indo-European an unverified form bhreng-, variant, variety of base an unverified form bhren-, project, edge from source Classical Latin frons, front
Webster's New World College Dictionary Copyright © 2010 by Wiley Publishing, Inc., Cleveland, Ohio. Used by arrangement with John Wiley & Sons, Inc.
---
brink definition by American Heritage Dictionary
noun
a. The upper edge of a steep or vertical slope: the brink of a cliff.

b. The margin of land bordering a body of water.

The point at which something is likely to begin; the verge: "Time and again the monarchs and statesmen of Europe approached the brink of conflict" (W. Bruce Lincoln). See Synonyms at border.
Origin: Middle English, probably of Scandinavian origin .