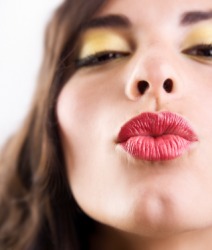 A pair of puckered lips.
noun
The definition of a lip is either the top or bottom edges of the mouth, something that resembles these, or an outer or upper edge or rim.

An example of a lip is what's used when kissing.
An example of a lip is the edge of a glass.
verb
Lip is defined as to touch the lips to something.

An example of lip is putting a musical instrument to your mouth in order to play.
---
lip
either of the two fleshy folds forming the edges of the mouth
anything like a lip, as in structure or in being an edge, rim, or margin; specif.,

the edge of a wound
the projecting rim of a pitcher, cup, etc.
the edge of the mouthpiece of a wind instrument
the edge on either side of the sound-producing opening of an organ flue pipe
the cutting edge of any of certain tools

Anat.

labium

Bot.

a lip-shaped corolla, calyx, or petal, as in a mint or an orchid
labellum

the position and use of the lips in playing a wind instrument; embouchure

Slang

impertinent or insolent talk
Origin of lip
Middle English
lippe
from Old English
lippa
, akin to Middle Dutch
lippe
from Indo-European base an unverified form
leb-
, to hang loosely, lip from source Classical Latin
labes
, a falling,
labium
, lip
transitive verb
lipped

,

lip′ping
to touch with the lips; specif.,

to place the lips in the proper position for playing (a wind instrument)

Archaic

to kiss

Golf

to come just to the edge of (the cup): said of the ball
Phonet.

articulated with a lip or the lips; labial: not widely used as a technical term: a lip consonant
of or for the lips
from the lips only; spoken, but insincere
bite one's lip
to keep back one's anger, annoyance, etc.
hang on the lips of
to listen to with close attention
keep a stiff upper lip
to bear pain or distress bravely or stoically
one's lips are sealed
one is determined to keep a secret or keep quiet
smack one's lips
to express great satisfaction in anticipating or remembering something pleasant
---
lip
noun
Anatomy

a. Either of two fleshy structures that surround the opening of the mouth in humans and other mammals.

b. In humans, the smooth brownish to reddish border of the lip.

A structure or part that encircles or bounds an orifice, as:

a. Anatomy A labium.

b. The margin of flesh around a wound.

c. Either of the margins of the aperture of a gastropod shell.

d. A rim, as of a vessel, bell, or crater.

Botany One of the two divisions of a bilabiate corolla or calyx, as in the snapdragon, or the modified median petal of an orchid flower.
The tip of a pouring spout, as on a pitcher.
Slang Insolent talk.
transitive verb
lipped, lip·ping, lips
a. To touch the lips to.

b. To kiss.

To utter.
To lap or splash against.
Sports To hit a golf ball so that it touches the edge of (the hole) without dropping in.
Origin of lip
Middle English
from
Old English
lippa
; see
leb-
in Indo-European roots.
Related Forms:
lip-
---
lip

Noun
(countable and uncountable, plural lips)
(countable) Either of the two fleshy protrusions around the opening of the mouth.
(slang, uncountable) Backtalk; verbal impertinence.

Don't give me any lip!

The edge of a high spot of land.
The sharp cutting edge on the end of an auger.
Verb
(third-person singular simple present lips, present participle lipping, simple past and past participle lipped)
To utter verbally.

To simulate speech merely by lip-movement, as suffices for a lip-reader.
(sports) to make a golf ball hit the lip of the cup, without dropping in.
Origin
From Middle English lippe, from Old English lippe, lippa ("lip"), from Proto-Germanic *lipjô ("lip"), from Proto-Indo-European *leb- ("to hang loosely, droop, sag"). Cognate with Eastern Frisian lip ("lip"), Dutch lip ("lip"), German Lippe and Lefze ("lip"), Swedish läpp ("lip"), Norwegian leppe ("lip"), Latin labium ("lip"), Russian to kiss (to kiss).
Prefix
alternative (shortened) form of lipo-
---