wash

Wash.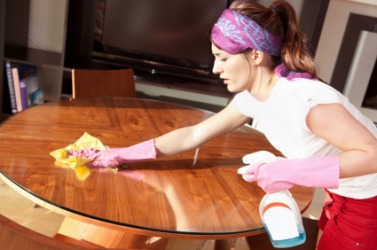 A woman washes a table.
noun
Wash is defined as the act of cleaning, purifying or moistening, or laundry that needs to be cleaned.

An example of a wash is a scrubbing of the car.
An example of wash are dirty clothes in the hamper.
verb
Wash means to clean with a liquid, purify or moisten.

An example of wash is to use a damp cloth to wipe up a soiled table.
---
wash
to clean by means of water or other liquid, as by dipping, tumbling, or scrubbing, often with soap, a detergent, etc.
to make clean in a religious or moral sense; purify
to make wet, or moisten; drench or flush with water or other liquid
to cleanse (itself or another) by licking, as a cat does
to flow over, past, or against: said of a sea, river, lake, waves, etc.
to soak (out), flush (off), or carry (away) by or as by the use or action of water: to wash out dirt, a bridge washed away by the flood

to make by flowing over and wearing away substance: a heavy rain that washed gullies in the bank
to cut into or erode; wear (out or away) by flowing over: the flood washed out the road

to act as a suitable cleaning agent for: soap that will wash silks
to cover with a thin or watery coating of paint, esp. of water color
to cover with a thin layer of metal

Chem.

to pass distilled water through (a precipitate in a filter)
to pass (a gas) over or through a liquid in order to remove soluble matter

Mining

to pass water through or over (earth, gravel, etc.) in order to separate ore, metal, precious stones, etc.
to separate (the ore, etc.) in this way
Origin of wash
Middle English
wasshen
from Old English
wæscan
, akin to German
waschen
: for probably Indo-European base see water
to wash oneself or one's hands, face, etc.

to wash clothes
to clean anything in, or by means of, water, etc.

to undergo washing, esp. without fading or other damage
to be removed by washing: usually with out or away: stains that will wash out
to sweep or flow (over, against, along, up, etc.) in or as in waves or a current, stream, etc.
to be cut, worn, or carried (out or away) by the action of water: the bridge had washed out
to be eroded, as by the action of rain or a river

Informal

to withstand scrutiny or an examination: an alibi that won't wash
the act or an instance of washing
a place where something is washed: usually in comb.: a carwash

a quantity of clothes, etc. washed, or to be washed
waste liquid; specif., refuse liquid food, as from cooking; swill; hogwash

the rush, sweep, or surge of water or waves
the sound of this
water rushing, sweeping, or surging in waves
the surge or eddy of water caused by a propeller, oars, paddle wheel, etc.
a disturbed eddy of air left behind a moving airplane, propeller, etc.

wear or erosion caused by a flow or falling of water, or by the action of waves
silt, mud, debris, etc. carried and dropped by running water, as of a stream
soil or earth from which metals, ores, precious stones, etc. may be washed

low ground which is flooded part of the time, and partly dry the rest, with water standing in pools
a bog; marsh
a shallow pool or pond, or a small stream
a shallow arm of the sea or part of a river

a channel made by running water
in the W U.S., the dry bed of a stream which flows only occasionally, usually in a ravine or canyon
a thin, watery layer of paint, esp. of watercolor, applied with even, sweeping movement of the brush
a thin coating of metal applied to a surface in liquid form
any of various liquids as for cosmetic, grooming, or medicinal use: mouthwash
fermented liquor ready for distillation
weak liquor or liquid food

Informal

a drink of water, beer, etc. taken with whiskey, rum, etc.; chaser

Informal

a situation in which contrasted elements, as the losses and gains in a business transaction, offset each other
that can be washed without damage; washable: a wash dress
come out in the wash
Informal
to be revealed or explained sooner or later
to be resolved eventually, esp. without intervention and after a period of time
wash down
to clean by washing, esp. with a stream of water
to follow (food, a drink of whiskey, etc.) with a drink, as of water
wash out
Slang
to drop out of or be dropped from a training course, athletic program, etc. because of failure
to reject or fail
wash up
to wash oneself or one's hands, face, etc.

Brit.

to wash dishes, cups, cutlery, etc., as after a meal
Wash
shallow inlet of the North Sea, on the E coast of England: c. 20 mi (32 km) long
Wash
---
wash
verb
washed, wash·ing, wash·es
verb
transitive
a. To cleanse, using water or other liquid, usually with soap, detergent, or bleach, by immersing, dipping, rubbing, or scrubbing: wash one's hands; wash windows.

b. To soak, rinse out, and remove (dirt or stain) with water or other liquid: wash grease out of overalls.

To make moist or wet; drench: Tears washed the child's cheeks.
To flow over, against, or past: waves that washed the sandy shores.
To carry, erode, remove, or destroy by the action of moving water: Heavy rains washed the topsoil away.
To rid of corruption or guilt; cleanse or purify: wash sins away.
To cover or coat with a watery layer of paint or other coloring substance.
Chemistry

a. To purify (a gas) by passing through or over a liquid, as to remove soluble matter.

b. To pass a solvent, such as distilled water, through (a precipitate).

To separate constituents of (an ore) by immersion in or agitation with water.
To cause to undergo a swirling action: washed the tea around in the cup.
verb
intransitive
To cleanse something in or by means of water or other liquid.

a. To undergo washing without fading or other damage: This fabric will wash.

b. Informal To hold up under examination; be convincing: His story will not wash with the police.

To flow, sweep, or beat with a characteristic lapping sound: Waves washed over the pilings.
To be carried away, removed, or drawn by the action of water.
noun
The act or process of washing or cleansing.
A quantity of articles washed or intended for washing: The wash is on the back porch.
Waste liquid; swill.
Fermented liquid from which liquor is distilled.
A preparation or product used in washing or coating.
A cosmetic or medicinal liquid, such as a mouthwash.

a. A thin layer of watercolor or India ink spread on a drawing.

b. A light tint or hue: "a wash of red sunset" ( Thomas Pynchon )

a. A rush or surge of water or waves.

b. The sound of this rush or surge.

a. Removal or erosion of soil by the action of moving water.

b. A deposit of recently eroded debris.

a. Low or marshy ground washed by tidal waters.

b. A stretch of shallow water.

Western US The dry bed of a stream.
Turbulence in air or water caused by the motion or action of an oar, propeller, jet, or airfoil.
Informal An activity, action, or enterprise that yields neither marked gain nor marked loss: "

[The company]

doesn't do badly. That is, it's a wash" ( Harper's )
adjective
Used for washing.
Being such that washing is possible; washable.
Phrasal Verbs:
wash down
To clean by washing with water from top to bottom:
wash down the walls.
To follow the ingestion of (food, for example) with the ingestion of a liquid:
washed the cake down with coffee.
wash out
a. To remove or be removed by washing.
b. To cause to fade by laundering: color that had been washed out by bleach.
To carry or wear away or be carried or worn away by the action of moving water:
The river rose and washed out the dam. The road has washed out five miles down the mountain.
To deplete or become depleted of vitality:
By evening, I was washed out from overwork.
To eliminate or be eliminated as unsatisfactory:
a football player who was washed out; an officer candidate who washed out after one month.
To cause (an event) to be rained out.
wash up
To wash one's hands.
Chiefly British
To wash dishes after a meal.To burn out; exhaust:
all washed up as a politician.
Origin of wash
Middle English
washen
from
Old English
wacsan, wæscan
; see
wed-
1
in Indo-European roots.
Wash
An inlet of the North Sea off east-central England. The Wash has a dredged ship channel that leads to King's Lynn.
Wash.
---
wash

Initialism
Water, Sanitation and Hygiene.
---