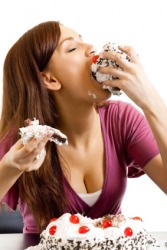 A woman gorges herself on pie.
noun
The definition of a gorge is the narrow valley in between steep hills or cliffs.

An example of a gorge is the Niagara Gorge.
verb
To gorge is defined as to consume or take too much of something, especially food.

An example of gorge is when you eat an entire pie and cake all by yourself.
---
gorge
Archaic

the throat or gullet
the crop or stomach of a hawk

the maw or stomach of a voracious being or animal
food or a meal to fill or stuff the stomach
the contents of the stomach: often used fig. in such phrases as

make one's gorge rise

, to sicken, disgust, or anger one

the entrance from the rear into a bastion or projecting section of a fortification
a deep, narrow pass between steep heights
a mass that blocks up a passage
Origin of gorge
Middle English from OFr, throat, gullet from Late Latin an unverified form
gurga
, throat, narrow pass, for Classical Latin
gurges
, whirlpool from Indo-European base an unverified form
gwer-
, to swallow up from source Classical Latin
vorare
intransitive verb
gorged

,

gorg′ing
to eat gluttonously
to fill the gorge of; glut
to swallow greedily
---
gorge
noun
A deep narrow valley with steep rocky sides; a ravine.
A narrow entrance into the outwork of a fortification.
The throat; the gullet: The gory sight made my gorge rise.
The crop of a hawk.
An instance of gluttonous eating.
The contents of the stomach; something swallowed.
A mass obstructing a narrow passage: a shipping lane blocked by an ice gorge.
The seam on the front of a coat or jacket where the lapel and the collar are joined.
verb
gorged, gorg·ing, gorg·es
verb
transitive
To stuff with food; glut: gorged themselves with candy.
To devour greedily.
verb
intransitive
To eat gluttonously.
Origin of gorge
Middle English
throat
from
Old French
from
Late Latin
gurga
perhaps from
Latin
gurges
whirlpool, abyss
Related Forms:
---
gorge

Noun
(plural gorges)
That which is gorged or swallowed, especially by a hawk or other fowl.
A filling or choking of a passage or channel by an obstruction.

an ice gorge in a river
Verb
(third-person singular simple present gorges, present participle gorging, simple past and past participle gorged)
(reflexive, often followed by on) To eat greedily and in large quantities.

They gorged themselves on chocolate and cake.

To swallow, especially with greediness, or in large mouthfuls or quantities.
To glut; to fill up to the throat; to satiate.
Origin
From Middle English, from Old French, from Late Latin gurga.
Adjective
(UK, slang) Gorgeous.

Oh, look at him: isn't he gorge?
---