noun
The definition of an abyss is an extremely deep or bottomless hole or chasm, either literal or figurative.

A bottomless pit is an example of an abyss.
A person who is very depressed may be said to have fallen into an abyss.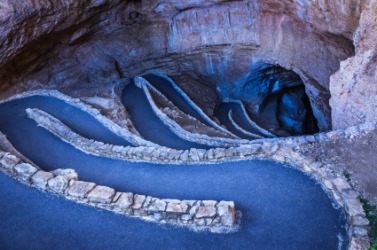 A switchback path leads into the abyss.
---
abyss definition by Webster's New World
noun
a deep fissure in the earth; bottomless gulf; chasm
anything too deep for measurement; profound depth: abyss of shame, of time, etc.
the ocean depths

Theol.

the primeval void or chaos before the Creation
Origin: Classical Latin abyssus ; from Classical Greek abyssos ; from a-, without plush byssos, bottom
Webster's New World College Dictionary Copyright © 2010 by Wiley Publishing, Inc., Cleveland, Ohio. Used by arrangement with John Wiley & Sons, Inc.
---
abyss definition by American Heritage Dictionary
noun
An immeasurably deep chasm, depth, or void: "lost in the vast abysses of space and time" (Loren Eiseley).

a. The primeval chaos out of which it was believed that the earth and sky were formed.

b. The abode of evil spirits; hell.
Origin: Middle English abissus, from Late Latin abyssus, from Greek abussos, bottomless : a-, without; see a-1 + bussos, bottom.