abyss

a·byss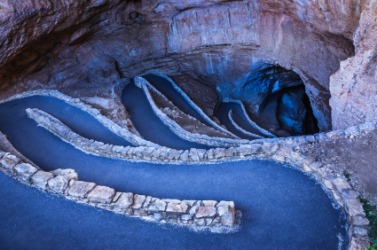 A switchback path leads into the abyss.
noun
The definition of an abyss is an extremely deep or bottomless hole or chasm, either literal or figurative.

A bottomless pit is an example of an abyss.
A person who is very depressed may be said to have fallen into an abyss.
---
abyss
a deep fissure in the earth; bottomless gulf; chasm
anything too deep for measurement; profound depth: abyss of shame, of time, etc.
the ocean depths

Theol.

the primeval void or chaos before the Creation
Origin of abyss
Classical Latin
abyssus
from Classical Greek
abyssos
from
a-
, without +
byssos
, bottom
---
abyss
noun
An immeasurably deep chasm, depth, or void: "lost in the vast abysses of space and time" ( Loren Eiseley )

a. In the book of Genesis, the primeval Chaos out of which earth and sky were formed.

b. The abode of evil spirits; hell.
Origin of abyss
Middle English
abissus
from
Late Latin
abyssus
from
Greek
abussos
bottomless
a-
without
; see
a-
1
.
bussos
bottom
---
abyss

Adjective
(not comparable)
Abbreviation of Abyssinian.
Noun
(plural abysses)
Hell; the bottomless pit; primeval chaos; a confined subterranean ocean. [First attested around 1350 to 1470.]
(frequently figuratively) A bottomless or unfathomed depth, gulf, or chasm; hence, any deep, immeasurable; any void space. [First attested in the late 16th century.]
Moral depravity; vast intellectual or moral depth.
An impending catastrophic happening.
(heraldry) The center of an escutcheon.
Usage notes
(impending catastrophic happening): It is typically preceded by the word the.
Origin
From Middle English abissus, from Late Latin abyssus ("a bottomless gulf"), from Ancient Greek ἄβυσσος (abussos, "bottomless"), from ἀ- (a-, "not")+ βυσσός (bussos, "deep place"), , from βυθός (bythos, "deep place").
---