noun
The definition of chaos refers to lack of order or lack of intentional design.

An example of chaos is an extremely messy room with papers piled everywhere.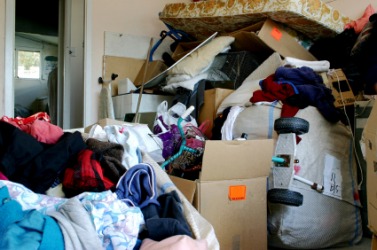 This room is in chaos.
---
chaos
noun
the disorder of formless matter and infinite space, supposed to have existed before the ordered universe
extreme confusion or disorder

Archaic

an abyss; chasm
☆

Math.

a pattern or state of order existing within apparent disorder, as in the irregularities of a coastline or a snowflake
Origin of chaos
Classical Latin ; from Classical Greek
chaos
, space, chaos (sense ) ; from Indo-European base an unverified form
ĝheu-
, an unverified form
ĝhei-
, to gape: see yawn
---
chaos
noun
A condition or place of great disorder or confusion.
A disorderly mass; a jumble: The desk was a chaos of papers and unopened letters.
often Chaos The disordered state of unformed matter and infinite space supposed in some cosmogonic views to have existed before the ordered universe.
Chaos theory.
Mathematics A dynamical system that has a sensitive dependence on its initial conditions.
Obsolete An abyss; a chasm.
Origin of chaos
Middle English,
formless primordial space
, from Latin, from Greek
khaos
.
Related Forms:
---
chaos
Noun
(usually uncountable, plural chaoses)
The unordered state of matter in classical accounts of cosmogony
Any state of disorder, any confused or amorphous mixture or conglomeration.
(mathematics) Behaviour of iterative non-linear systems in which arbitrarily small variations in initial conditions become magnified over time.
(fantasy) One of the two metaphysical forces of the world in some fantasy settings, as opposed to law.
Origin
Borrowed from Ancient Greek χάος (khaos, "vast chasm, void")
In Early Modern English used in the sense of the original Greek word. In the meaning primordial matter from the 16th century. Figurative usage in the sense "confusion, disorder" from the 17th century. The technical sense in mathematics and science dates to the 1960s.
---
chaos - Computer Definition
The science that deals with the underlying order of the seemingly random nature of the universe. See fractals.
---