pandemonium
[pan′də mō′nē əm]
noun
Pandemonium is defined as a place with chaos, noise and confusion.

An example of pandemonium is the arena full of the fans whose team has just won the Superbowl for the first time in 12 years.
YourDictionary definition and usage example. Copyright © 2013 by LoveToKnow Corp.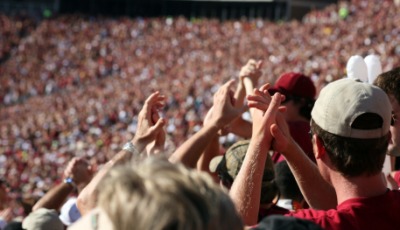 Pandemonium at a sports stadium.
Licensed from iStockPhoto
---
Webster's New World College Dictionary
Copyright © 2010 by Wiley Publishing, Inc., Cleveland, Ohio.
Used by arrangement with John Wiley & Sons, Inc.
---
noun
A very noisy place: "The whole lobby was a perfect pandemonium, and the din was terrific" (Jerome K. Jerome).
Wild uproar or noise. See Synonyms at noise.
Origin: From Pandǽmonium, capital of Hell in Paradise Lost, an epic poem by John Milton : Greek pan-, pan- + Late Latin daemonium, demon (from Greek daimonion, from daimōn, lesser god, demon; see demon).
Related Forms:
panˌde·moˈni·ac

adjective
The American Heritage® Dictionary of the English Language
, 4th edition Copyright © 2010 by Houghton Mifflin Harcourt Publishing Company. Published by Houghton Mifflin Harcourt Publishing Company. All rights reserved.
pandemonium
Variant of Pandemonium