babel
[bā′bəl, bab′əl]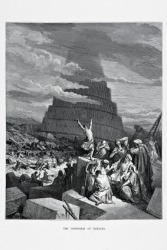 An engraving depicting the tower of Babel.
---
babel
noun
Bible

a city in Shinar in which Noah's descendants tried to build a very high tower to reach heaven and were prevented by God from doing so by a confusion of tongues: Gen. 11:1-9
an impracticable scheme

any confusion of voices or sounds; tumult
a place of such confusion
Origin of Babel
Classical Hebrew (language)
bavel
; from Akkadian
bābilu
, altered (by folk-etym. associated, association with
bāb
, gate and amp;
ili
god) ; from pre-Akkadian city name
babila
, Babylon
Babel, Isaak (Emmanuilovich) 1894-1940; Russ. writer
---
babel
also Ba·bel
noun
A confusion of sounds or voices: passengers chattering in a babel of tongues at the international airport.
A scene or situation of confusion: "a babel of commemorative ceremonies, statues, and tombs sponsored by competing cults of martyred revolutionaries" (Thomas L. Benjamin).
Origin of babel
After
Babel
.
In the Bible, a city (now thought to be Babylon) in Shinar where God confounded a presumptuous attempt to build a tower into heaven by confusing the language of its builders into many mutually incomprehensible languages.
---
babel
Noun
(plural babels)
Alternative form of Babel.
Noun
(plural Babels)
A confused mixture of sounds and voices, especially in different languages. [from 16th c.]
A place or scene of noise and confusion. [from 16th c.]
A tall, looming structure. [from 16th c.]
---
babel
Variant of Babel
noun
Bible

a city in Shinar in which Noah's descendants tried to build a very high tower to reach heaven and were prevented by God from doing so by a confusion of tongues: Gen. 11:1-9
an impracticable scheme

any confusion of voices or sounds; tumult
a place of such confusion
Origin of Babel
Classical Hebrew (language)
bavel
; from Akkadian
bābilu
, altered (by folk-etym. associated, association with
bāb
, gate and amp;
ili
god) ; from pre-Akkadian city name
babila
, Babylon