noun
The definition of a racket is a lightweight device with a handle and an oval frame with interwoven strings used for hitting a ball in tennis or a birdie in badminton.

An example of a racket is what badminton players use for hitting the birdie back and forth over the net.

Racket is defined as a loud noisy sound, or an act of illegally obtaining money.

An example of a racket is the sound of a restaurant server dropping a tray of plates on the ground and all of them breaking.
An example of a racket is fraud or bootlegging.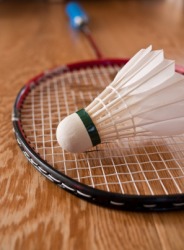 A badmintion shuttlecock and racket.
---
racket definition by Webster's New World
noun
a noisy confusion; loud and confused talk or activity; uproar

Archaic

a period of lively, exciting social life or revelry
☆

an obtaining of money illegally, as by bootlegging, fraud, or, esp., threats of violence

Informal

any dishonest scheme or practice

☆

Slang

an easy, profitable source of livelihood
any business, profession, or occupation
Origin: probably echoic
intransitive verb
to make a racket; take part in a noisy activity

Now Rare

to lead a boisterous social life; revel
to ramble or travel in a casual, reckless way, as in search of excitement: often with around
noun
a light bat for tennis, badminton, etc., with a network of catgut, silk, nylon, etc., in an oval or round frame attached to a handle
a snowshoe

loosely

the paddle used in table tennis
the game of racquets
Origin: Middle French raquette, earlier rachette, palm of the hand ; from Midieval Latin rasceta (manus), palm (of the hand) ; from Arabic rāḥa(t), palm of the hand
Webster's New World College Dictionary Copyright © 2010 by Wiley Publishing, Inc., Cleveland, Ohio. Used by arrangement with John Wiley & Sons, Inc.
---
racket definition by American Heritage Dictionary
also rac·quet
noun
A device consisting of an oval frame with a tight interlaced network of strings and a handle, used to strike a ball or shuttlecock in various games.
A wooden paddle, as one used in table tennis.
Origin: Middle English raket, a kind of handball, from Old French rachette, palm of the hand, racket, from Medieval Latin rascheta, palm, from Arabic rāḥat (al-yad), palm (of the hand), bound form of rāḥa; see rḥ in Semitic roots.
racket1
top: tennis and racquetball rackets
bottom: squash racket
noun
A loud distressing noise. See Synonyms at noise.
A dishonest business or practice, especially one that obtains money through fraud or extortion.

a. An easy, profitable means of livelihood.

b. Slang A business or occupation.
intransitive verb
rack·et·ed
,
rack·et·ing
,
rack·ets
To make or move with a loud distressing noise.
To lead an active social life.
Origin: Origin unknown.
The American Heritage® Dictionary of the English Language, 4th edition Copyright © 2010 by Houghton Mifflin Harcourt Publishing Company. Published by Houghton Mifflin Harcourt Publishing Company. All rights reserved.
---
racket - Business Definition
An illegal activity designed to achieve wealth for the perpetrators. For example, the owner of a used-car lot turns back the odometers on the vehicles offered for sale.