noun
The definition of a game is something you play for fun, sport or as a competitive activity.

An example of a game is basketball.
An example of a game is poker or go fish.
An example of a game is the board, houses and other parts of Monopoly.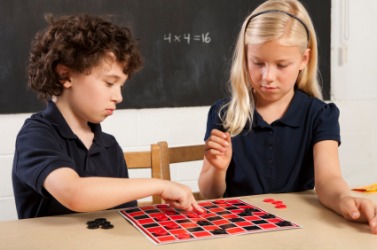 Two children play a game of checkers.
---
game definition by Webster's New World
noun
any form of play or way of playing; amusement; recreation; sport; frolic; play

any specific contest, engagement, amusement, computer simulation, or sport involving physical or mental competition under specific rules, as football, chess, or war games
a single contest in such a competition: to win two out of three games

Tennis

a subdivision of a set (), consisting of a series of at least four consecutive serves by a single player
a subdivision of any of certain other contests

the number of points required for winning: the game is 25
the score at any given point in a competition: at the half the game was 7 to 6

that which is gained by winning; victory; win
a set of equipment for a competitive amusement: to sell toys and games
a way or quality of playing in competition: to play a good game
any test of skill, courage, or endurance: the game of life
a project; scheme; plan: to see through another's game

wild birds or animals hunted for sport or for use as food
the flesh of such creatures used as food

fair game (sense )

Informal

a business or vocation, esp. one with an element of risk: the stock-market game
Origin: Middle English ; from Old English gamen, akin to Old Frisian game, Old High German gaman ; from uncertain or unknown; perhaps Indo-European base an unverified form gwhemb-, to leap merrily
adjective
Informal
lame or injured: said esp. of a leg
Origin: ; from uncertain or unknown; perhaps
Webster's New World College Dictionary Copyright © 2010 by Wiley Publishing, Inc., Cleveland, Ohio. Used by arrangement with John Wiley & Sons, Inc.
---
game definition by American Heritage Dictionary
noun
An activity providing entertainment or amusement; a pastime: party games; word games.

a. A competitive activity or sport in which players contend with each other according to a set of rules: the game of basketball; the game of gin rummy.

b. A single instance of such an activity: We lost the first game.

c. games An organized athletic program or contest: track-and-field games; took part in the winter games.

d. A period of competition or challenge: It was too late in the game to change the schedule of the project.

a. The total number of points required to win a game: One hundred points is game in bridge.

b. The score accumulated at any given time in a game: The game is now 14 to 12.

The equipment needed for playing certain games: packed the children's games in the car.
A particular style or manner of playing a game: improved my tennis game with practice.
Informal

a. An active interest or pursuit, especially one involving competitive engagement or adherence to rules: "the way the system operates, the access game, the turf game, the image game" (Hedrick Smith).

b. A business or occupation; a line: the insurance game.

c. An illegal activity; a racket.

Informal

a. Evasive, trifling, or manipulative behavior: wanted a straight answer, not more of their tiresome games.

b. A calculated strategy or approach; a scheme: I saw through their game from the very beginning.

Mathematics A model of a competitive situation that identifies interested parties and stipulates rules governing all aspects of the competition, used in game theory to determine the optimal course of action for an interested party.

a. Wild animals, birds, or fish hunted for food or sport.

b. The flesh of these animals, eaten as food.

a. An object of attack, ridicule, or pursuit: The press considered the candidate's indiscretions to be game.

b. Mockery; sport: The older children teased and made game of the newcomer.
verb
gamed
gamed
,
gam·ing
,
games
verb
, transitive
Archaic
To waste or lose by gambling.
verb
, intransitive
To play for stakes; gamble.
adjective
gam·er
,
gam·est
Plucky and unyielding in spirit; resolute: She put up a game fight against her detractors.
Ready and willing: Are you game for a swim?
Origin: Middle English, from Old English gamen.
Related Forms:
adjective
gam·er
,
gam·est
Crippled; lame: a game leg.
Origin: Origin unknown.
The American Heritage® Dictionary of the English Language, 4th edition Copyright © 2010 by Houghton Mifflin Harcourt Publishing Company. Published by Houghton Mifflin Harcourt Publishing Company. All rights reserved.
---
game - Phrases/Idioms
ahead of the game
☆
Informal
in the position of winning, esp. in gambling
die game
to die bravely and still fighting
game away
to squander or lose in gambling
make game of
to make fun of; make the butt of jokes, teasing, etc.; ridicule
play the game
Informal
to act according to the rules of a game
to behave as fairness or custom requires
the game is up
all chances for success are gone
ahead of the game
In a position of advantage; winning or succeeding.
the only game in town
Informal
The only one of its kind available:
"He's the only game in town for the press to write about"
(Leonard Garment).