ready
read·y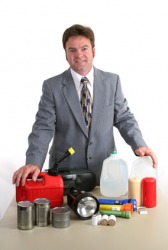 This man is ready for an emergency.
adjective
The definition of ready is a person or thing that is available or likely to do something.

An example of ready is a person waiting to the leave the house.
An exampe of ready is a cat just about to attack a bird.
verb
Ready is defined as to prepare or make available.

An example of ready is taking a ticket out of your wallet to hand over at the concert.
---
ready
read′i·er

,

read′i·est
prepared or equipped to act or be used immediately: ready to go, ready for occupancy
unhesitant; willing: a ready worker

likely or liable immediately: ready to cry
apt; inclined: always ready to blame others

clever and skillful mentally or physically; dexterous: a ready wit
done or made without delay; prompt: a ready reply
convenient or handy to use; available immediately: ready cash

Obs.

at hand; present: a response to a roll call
Origin of ready
Middle English
redie
; from Old English
ræde,
ready, prepared (for riding), akin to
ridan,
to ride, German
bereit,
ready, Old Norse
greithr,
prepared, Gothic
garaiths,
arranged: for Indo-European base see ride
read′ied

,

read′y·ing
to get or make ready; prepare: often used reflexively
Brit., Informal
ready money; cash at hand: usually with
the
at the ready
in a position or state of being prepared for immediate use: to hold a gun at the ready
make ready
to prepare; get in order
to dress
---
ready
adjective
read·i·er
,
read·i·est
Prepared or available for service, action, or progress: I am ready to work. The soup will be ready in a minute. The pupils are ready to learn to read.
Mentally disposed; willing: He was ready to believe her.
Likely or about to do something: She is ready to retire.
Prompt in apprehending or reacting: a ready intelligence; a ready response.
Available: ready money.
transitive verb
read·ied
,
read·y·ing
,
read·ies
To cause to be ready.
Origin of ready
Middle English
redy
, from Old English
r&aemac;de
; see
reidh-
in Indo-European roots.
Related Forms:
---
ready
---