facility

fa·cil·i·ty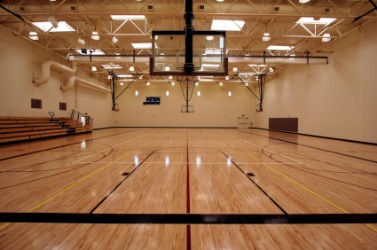 This gym is a sports facility.
noun
The definition of a facility is a building or room which was created to serve a specific purpose or is the ease of doing something.

An example of a facility is a gym.
An example of facility is the ability to accomplish many tasks in a timely and efficient manner.
---
facility
noun
pl.
-·ties
ease of doing or making; absence of difficulty
a ready ability; skill; dexterity; fluency
[usually pl.] the means by which something can be done: poor transportation facilities
a building, special room, etc. that is built or designed for some activity: a new facility for outpatient treatment
[usually pl.] lavatory (sense )
an arrangement in which a bank agrees to extend a service to a company, government, etc., esp. one in which a certain amount of credit can be drawn on as funds are needed: credit facility
Origin of facility
Middle English and Old French
facilite
from Classical Latin
facilitas
, easiness from
facilis
, facile
---
facility
noun
pl.
fa·cil·i·ties
a. Ease in moving, acting, or doing: "a soldier who was expected to be able to fell a tree … or build a bridge with equal facility" ( Bruce I. Gudmundsson )

b. An ability or talent; an aptitude: "He was a mediocre student who had a facility for absorbing details without curiosity" ( Jhumpa Lahiri )

often facilities

a. A building, room, array of equipment, or a number of such things, designed to serve a particular function: hospitals and other health care facilities.

b. Something that facilitates an action or process: The region has very poor transportation facilities.

facilities Informal A restroom or public toilet.
---
facility

Origin
From Middle French facilité, and its source, Latin facilitās.
---