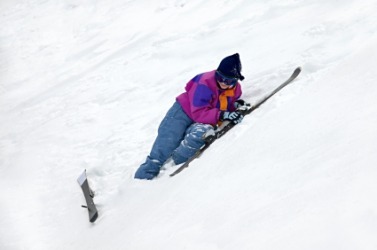 This person is having difficulty learning to ski.
noun
The definition of a difficulty refers to something that hinders you or causes you to have to face challenges, or the state or condition of being challenged or having a hard time.

When you have a very hard time learning to ski, this is an example of a time when you have difficulty skiing.
A challenge that arises that prevents you from achieving your goal is an example of a difficulty.
---
difficulty
noun
pl.
-·ties
the condition or fact of being difficult
something that is difficult, as a hard problem or an obstacle or objection
trouble, distress, etc., or a cause of this
a disagreement or quarrel
Origin of difficulty
Middle English and Old French
difficulte
from Classical Latin
difficultas
from
difficilis
, difficult from
dis-
, not +
facilis
, easy: see facile
in difficulties
in distress, esp. financially
---
difficulty
noun
pl.
dif·fi·cul·ties
The condition or quality of being difficult: the difficulty of a task.
Something not easily done, accomplished, comprehended, or solved: We face a difficulty that requires unconventional thinking.
often difficulties A troublesome or embarrassing state of affairs, especially of financial affairs: lost his job and found himself in difficulties.
A disagreement or dispute: a company trying to settle difficulties with labor.
Origin of difficulty
Middle English
difficulte
from
Old French
dificulte
from
Latin
difficultās
from
difficilis
difficult
dis-
dis-
facilis
easy
; see
dhē-
in Indo-European roots.
---
difficulty

Noun
(plural difficulties)
The state of being difficult, or hard to do.
---