noun
The definition of a word is a letter or group of letters that has meaning when spoken or written.

An example of a word is dog.

The definition of a word is a letter or group of letters that has meaning when spoken or written.

An example of a word is dog.
An example of words are the seventeen sets of letters that are written to form this sentence.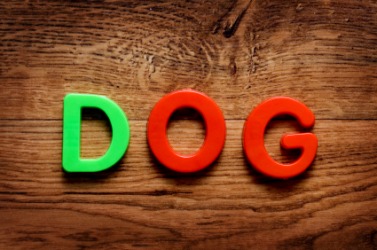 Plastic letters spell the word dog.
---
word definition by Webster's New World
noun
a speech sound, or series of them, serving to communicate meaning and consisting of at least one base morpheme with or without prefixes or suffixes; unit of language between the morpheme and the sentence
a letter or group of letters representing such a unit of language, written or printed usually in solid or hyphenated form

a brief expression, statement, remark, etc.: a word of advice
a promise, affirmation, or assurance: to give a person one's word
news; information; tidings: no word from home; what's the good word?

a password or signal
a command, order, or authorization: waiting for the word to go ahead

talk; speech
the lyrics, text, libretto, etc. of a musical composition that is sung

a quarrel; dispute; argument

Archaic

a saying; proverb

Comput.

a basic unit of storage in a memory, consisting of a certain number of bits
Origin: Middle English ; from Old English akin to German wort ; from Indo-European an unverified form werdh- (extension of base an unverified form wer-, to speak, say) from source Classical Greek eirein, to speak, Classical Latin verbum, word
transitive verb
to express in words; phrase
Webster's New World College Dictionary Copyright © 2010 by Wiley Publishing, Inc., Cleveland, Ohio. Used by arrangement with John Wiley & Sons, Inc.
---
word definition by American Heritage Dictionary
noun
A sound or a combination of sounds, or its representation in writing or printing, that symbolizes and communicates a meaning and may consist of a single morpheme or of a combination of morphemes.
Something said; an utterance, remark, or comment: May I say a word about that?
Computer Science A set of bits constituting the smallest unit of addressable memory.
words Discourse or talk; speech: Actions speak louder than words.
words Music The text of a vocal composition; lyrics.
An assurance or promise; sworn intention: She has kept her word.

a. A command or direction; an order: gave the word to retreat.

b. A verbal signal; a password or watchword.

a.

News:

Any word on your promotion?

See Synonyms at

news

.

b. Rumor: Word has it they're divorcing.

words Hostile or angry remarks made back and forth.
Used euphemistically in combination with the initial letter of a term that is considered offensive or taboo or that one does not want to utter: "Although economists here will not call it a recession yet, the dreaded 'R' word is beginning to pop up in the media" (Francine S. Kiefer).
Word

b. The Scriptures; the Bible.
transitive verb
word·ed
,
word·ing
,
words
To express in words: worded the petition carefully.
interjection
Slang Used to express approval or an affirmative response to something. Sometimes used with up.
Origin: Middle English, from Old English; see wer-5 in Indo-European roots.
The American Heritage® Dictionary of the English Language, 4th edition Copyright © 2010 by Houghton Mifflin Harcourt Publishing Company. Published by Houghton Mifflin Harcourt Publishing Company. All rights reserved.
---
word - Computer Definition
(1) See Microsoft Word.
(2) The computer's internal storage unit. Word "size" refers to the amount of data a processor's internal data registers can hold and process at one time. Business computers generally have word sizes of 32 or 64 bits. Computers embedded in appliances and consumer products typically have word sizes of 8, 16 or 32 bits. See bit and byte. Given the same clock rate, the larger the word and the faster the computer calculates and compares. However, the speed increase depends on the size of the data being calculated. Adding a 16-bit number will not be faster in a computer with 32-bit registers than one with 16 bits, but a 24-bit number will be faster. The 16-bit computer requires additional steps to deal with the 24 bits (16 bits first, then the remaining 8), whereas all 24 bits of the number can fit in the 32-bit register. See MHz. x86 Architecture In the x86 PC (Intel, AMD, etc.), although the architecture has long supported 32-bit registers, its native word size stems back to its 16-bit origins, and a "single" word is 16 bits. A "double" word is 32 bits. Many Word Sizes Since the advent of computers starting in the 1940s, machines have been designed with a variety of word sizes, including 10, 12, 20, 24, 36, 48 and 60 bits.
Computer Desktop EncyclopediaTHIS DEFINITION IS FOR PERSONAL USE ONLYAll other reproduction is strictly prohibited without permission from the publisher.© 1981-2014 The Computer Language Company Inc. All rights reserved.
---
word - Phrases/Idioms
a good word
a favorable comment, or commendation
at a word
in quick response to a request or command; immediately
be as good as one's word
to live up to one's promises
break one's word
to fail to keep one's promise
hang on someone's words
to listen to someone eagerly
have a word with
to have a brief conversation with
have no words for
to be incapable of describing
man (or woman) of his (or her) word
a person who keeps his (or her) promises
of many (or few) words
talkative (or not talkative)
take someone at his word
or
take someone at her word
to take someone's words literally or seriously and, often, act accordingly
take the words (right) out of someone's mouth
to say just what someone (else) was about to say
(upon) my word!
indeed!really!: an exclamation of surprise, irritation, etc.
word for word
in precisely the same words; exactly; verbatim
in a word
In short; in summary:
In a word, the situation is serious.
in so many words
In precisely those words; exactly:

hinted at impending indictments but did not say it in so many words.

Speaking candidly and straightforwardly:

In so many words, the weather has been beastly.
of few words
Not conversational or loquacious; laconic:
a person of few words.
of (one's) word
Displaying personal dependability:
a woman of her word.
take at (one's) word
To be convinced of another's sincerity and act in accord with his or her statement:
We took them at their word that the job would be done on time.
good word
A favorable comment:

She put in a good word for me.

Favorable news.
have no words for
To be unable to describe or talk about.