noun
The definition of a couch is a large piece of furniture for sitting or laying down.

An example of couch is a sofa.
verb
To couch is to put in specific words to create a special feeling.

An example of to couch is to use very kind words to express an unkind comment.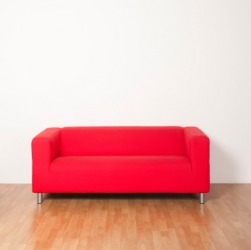 A bright red couch.
---
couch
noun
an article of furniture on which one may sit or lie down; sofa; divan
any resting place

Old Poet.

a place for sleeping; bed

Obsolete

an animal's lair or den

Brewing

a layer of grain spread to germinate

Fine Arts

a priming layer or coat, as of paint or varnish
Origin of couch
Middle English and amp; Old French
couche,
a bed, lair: see couchthe
transitive verb
to lay or put on or as on a couch, as to sleep: now usually used reflexively or in the passive voice
to lower or bring down; esp., to lower (a spear, lance, etc.) to an attacking position
to put in specific or particular words; phrase; express: the speech was couched in flowery language
to embroider with thread laid flat and fastened down with fine stitches

Archaic

to put in a layer

Obsolete

to hide

Brewing

to spread (grain) in a thin layer to germinate

Surgery

to remove (a cataract) by using a needle to push down the crystalline lens of the eye
Origin of couch
ME
couchen
< OFr
coucher
, to lie down < L
collocare,
to lay <
com-,
together +
locare,
to place: see local
intransitive verb
to lie down on a bed, as to sleep; recline
to lie in hiding or in ambush
to lie in a pile, as decomposing leaves
on the couch
☆
Informal
undergoing psychoanalysis
---
couch
noun
a. A sofa.

b. A sofa on which a patient lies while undergoing psychoanalysis or psychiatric treatment.

a. The frame or floor on which grain, usually barley, is spread in malting.

b. A layer of grain, usually barley, spread to germinate.

A priming coat of paint or varnish used in artistic painting.
verb
couched
,
couch·ing
,
couch·es
verb
, transitive
To word in a certain manner; phrase: couched their protests in diplomatic language.
To cause (oneself) to lie down, as for rest.
To embroider by laying thread flat on a surface and fastening it by stitches at regular intervals.
To spread (grain) on a couch to germinate, as in malting.
To lower (a spear, for example) to horizontal position, as for an attack.
verb
, intransitive
To lie down; recline, as for rest.
To lie in ambush or concealment; lurk.
To be in a heap or pile, as leaves for decomposition or fermentation.
Origin of couch
Middle English
couche
, from Old French
culche, couche
, from
couchier
,
to lay down, lie down
, from Latin
collocāre
; see
collocate
.
Related Forms:
---
couch
---