noun
Inclined is defined as something that forms an angle due to its slope or tilt.

An example of something that is inclined is a ladder leaning up against a home that forms a triangle.
verb
To be inclined means to tend towards something or to be likely to do a particular thing or choose a specific outcome.

When you feel like you should agree with your friend's opinion, this is an example of a situation where you are inclined to agree with your friend.
YourDictionary definition and usage example. Copyright © 2013 by LoveToKnow Corp.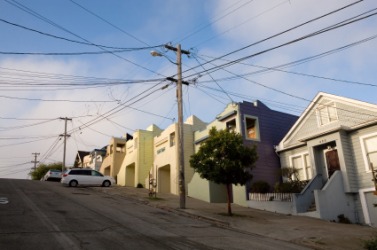 An inclined street in San Francisco.
Licensed from iStockPhoto
---
adjective
having an inclination; specif.,

at or on a slant; sloping; leaning
disposed; willing; tending

forming an angle with another line, plane, or body
Webster's New World College Dictionary
Copyright © 2010 by Wiley Publishing, Inc., Cleveland, Ohio.
Used by arrangement with John Wiley & Sons, Inc.
---
adjective
Sloping, slanting, or leaning.
Having a preference, disposition, or tendency: lobbied the positively inclined senators to push for the bill's passage.
The American Heritage® Dictionary of the English Language
, 4th edition Copyright © 2010 by Houghton Mifflin Harcourt Publishing Company. Published by Houghton Mifflin Harcourt Publishing Company. All rights reserved.