prone

prone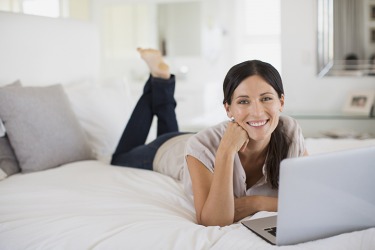 She is laying in a prone position on her bed.
adjective
Prone is defined as having a tendency towards something, or describes something that is sloped or lying down.

If you tend to be emotional, this is an example of when you are prone to being emotional.
If you are lying facing down on your bed, this is an example of when you are in a prone position.
---
prone
lying or leaning face downward
lying flat or prostrate; in a horizontal position
having a natural bent; disposed or inclined (to): prone to error
groveling; abject

Old Poet.

leaning forward or sloping downward
Origin of prone
Middle English from Classical Latin
pronus
from
pro
, before: see pro-
---
prone
adjective
Lying with the front or face downward.
Having a tendency; inclined. Often used in combination: paper that is prone to yellowing; an accident-prone child.
adverb
In a prone manner: The patient was lying prone on the bed.
Origin of prone
Middle English
inclined, disposed
from
Latin
prōnus
leaning forward
; see
per
1
in Indo-European roots.
Related Forms:
---
prone

Adjective
(comparative more prone, superlative most prone)
Lying face downward; prostrate .
Having a downward inclination or slope.
Origin
From Latin prōnus ("turned forward, bent or inclined").
---