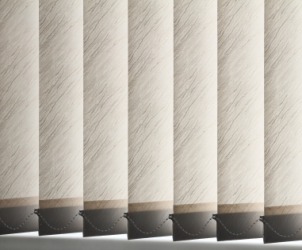 These blinds are vertical.
adjective
The definition of vertical is something at a right angle to the horizon.

An example of something which would be described as standing vertical is something that is standing directly upright at a right angle to the flat ground.
---
vertical
of, at, or in the vertex or zenith

perpendicular, or at a right angle, to the plane of the horizon; upright, straight up or down, etc.
at a right angle to the plane of the supporting surface

at, or made up of elements at, different levels, as of industrial production and distribution or of social status
of the vertex of the head

Biol.

in the direction in which the axis lies; lengthwise
Origin of vertical
French from Late Latin
verticalis
from Classical Latin
vertex
(gen.
verticis
): see vertex
a vertical line, plane, circle, etc.
upright position
---
vertical
adjective
Being or situated at right angles to the horizon; upright.
Situated at the vertex or highest point; directly overhead.
Anatomy Of or relating to the vertex of the head.
Business

a. Relating to or involving all stages from production to sale: vertical integration.

b. Of or relating to a business model that offers a specific product or service to a specific customer base rather than offering a wide range of products or services in a wider market.

Relating to or composed of elements at different levels, as of society.
Medicine Of or relating to transmission of a disease or condition from parent to offspring, either through genetic inheritance or through circumstances occurring between conception and birth.
noun
Something vertical, as a line, plane, or circle.
A vertical position.
Origin of vertical
Late Latin
verticālis
overhead
from
Latin
vertex
vertic-
highest point
; see
vertex
.
Related Forms:
ver′ti·cal′i·ty ver′ti·cal·ness

noun
---
vertical

Noun
(plural verticals)
A vertical geometrical figure; a perpendicular.
An individual slat in a set of vertical blinds.
A vertical component of a structure.
(marketing) A vertical market.

We offer specialised accounting software targeting various verticals.
Adjective
(comparative more vertical, superlative most vertical)
In a two dimensional Cartesian co-ordinate system, describing the axis oriented normal (perpendicular, at right angles) to the horizontal axis.
(marketing) Of or pertaining to vertical markets.
---