level

lev·el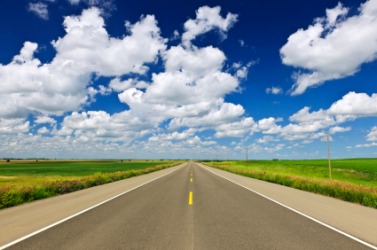 A level road in the prairie.
adjective
The definition of level is having a flat surface that is horizontal and straight, being at the same height as something else, remaining unchanging/steady, or having the same position as something else.

An example of level is smooth pavement in an area with no hills.
An example of level is a large flat field.
An example of level is bending down to get to a child's height so you can be at the same eye level.
An example of level is a price that doesn't go up or down.
An example of level is a car that is at the same height as your car.
noun
Level is defined as an accepted standard, or is a specific height or distance from a designated base.

An example of level is reading level, which is an accepted standard at which children should be able to read based on how old they are.
An example of level is sea level, which is the starting elevation from which other land measurements are based.
verb
To level means to create a flat surface, to be honest and tell the truth to someone, or to direct criticism at someone.

An example of level is when you smooth wet concrete so it will lie flat.
An example of level is when you give someone the bad news truthfully.
An example of level is when you give criticism to someone and tell him he is a poor worker.
---
level
an instrument for determining, or adjusting a surface to, an even horizontal plane: the traditional level has a clear tube partly filled with liquid so as to leave an air bubble that moves to the exact center of the tube when the instrument is on an even horizontal plane; often there is another such tube which indicates when the instrument is perpendicular to the horizontal

surveyor's level
a measuring of differences in elevation with this instrument

a horizontal plane or line; esp., such a plane taken as a basis for the measurement of elevation: sea level
the height, or altitude, of such a plane

a relatively flat and even area of land or other surface; horizontal area
the same horizontal plane: to keep the tops of pictures on a level
usual or normal position with reference to a certain height: water seeks its level
position, elevation, or rank considered as one of the planes in a scale of values: levels of income
a horizontal drift or gallery in a mine
the degree of concentration, as of a substance in a fluid
any of a series of stages, as in a computer game, each presenting a more difficult challenge over the previous stage

Physics

the ratio of a quantity's magnitude to an arbitrarily selected magnitude
Origin of level
Old French
livel
from Vulgar Latin an unverified form
libellus
from Classical Latin
libella
, diminutive of
libra
, a balance, level, weight
having no part higher than any other; perfectly flat and even; conforming to the surface of still water
conforming to the plane of the horizon; not sloping
being of the same height or being in the same plane; even (with)
even with the top of the container; not heaping: a level teaspoonful

equal in importance, rank, degree, etc.
conforming to a specified level or rank: high-level negotiations
equally advanced in development
even or uniform in tone, color, pitch, volume, rate, etc.

not having or showing sudden differences or inequalities; well-balanced; equable
not excited or disturbed; calm or steady

paid or to be paid in equal amounts over a period of time

Slang

honest; straight
so as to be level; so as to be flat, even, in line, etc.
transitive verb
-·eled

or

-·elled

,

-·el·ing

or

-·el·ling
to make level; specif.,

to make perfectly horizontal by means of a level
to make flat and even
to equalize in height, rank, quality, etc.: often with down or up
to make even in tone, color, pitch, etc.

to knock to the ground; demolish; lay low: the storm leveled one section of town
to aim (a gun, etc.) for firing
to aim or direct

Surveying

to determine the differences in altitude in (a plot of ground)
to aim a gun, etc. (at)
to bring people or things to an equal rank, condition, etc.: usually with down or up

Informal

to be frank and honest (with someone)
find one's level
to reach one's (or its) proper or natural place according to one's (or its) qualities, capacity, etc.
level off
to make flat and even
to become horizontal, as an airplane in flight
to become stable or constant
one's level best
Informal
the best one can do
on the level
Informal
honest(ly) and fair(ly)

---
level
noun
a. Relative position or rank on a scale: the local level of government; studying at the graduate level.

b. A relative degree, as of achievement, intensity, or concentration: an unsafe level of toxicity; a high level of frustration.

A natural or proper position, place, or stage: I finally found my own level in the business world.
Position along a vertical axis; height or depth: a platform at knee level.

a. A horizontal line or plane at right angles to the plumb.

b. The position or height of such a line or plane.

A flat, horizontal surface.
A land area of uniform elevation.

a. An instrument for ascertaining whether a surface is horizontal, vertical, or at a 45° angle, consisting essentially of an encased, liquid-filled tube containing an air bubble that moves to a center window when the instrument is set on an even plane. Also called spirit level .

b. Such a device combined with a telescope and used in surveying.

c. A computation of the difference in elevation between two points by using such a device.
adjective
Having a flat, smooth surface: a level countertop.
Being on a horizontal plane: a level field.

a. Being at the same height or position as another; even.

b. Being at the same degree of rank, standing, or advantage as another; equal.

c. Being or relating to a specified rank or standing. Often used in combination: a lower-level administrator.

Exhibiting no abrupt variations; steady: spoke in a level tone.
Rational and balanced; sensible: came to a level appraisal of the situation; keeps a level head in an emergency.
Filled evenly to the top: a level tablespoon of the medicine.
verb
lev·eled, lev·el·ing, lev·els,
or
lev·elled
lev·el·ling
verb
transitive
a. To make horizontal, flat, or even: leveled the driveway with a roller; leveled off the hedges with the clippers.

b. To place on the same rank; equalize.

a. To tear down (a building, for example); raze.

b. To knock down, as with a blow; lay low: leveled the opponent with an uppercut.

a. To aim along a horizontal plane: leveled the gun at the target.

b.

To direct emphatically or forcefully toward someone:

leveled charges of dishonesty.

See Synonyms at

aim

.

To measure the different elevations of (a tract of land) with a level.
verb
intransitive
To bring persons or things to an equal level; equalize.
To aim a weapon horizontally.
Informal To be frank and open: advised the suspect to level with the authorities.
adverb
Along a flat or even line or plane.
Phrasal Verbs:
level off
To move toward stability or consistency:
Prices leveled off.
To maneuver an aircraft into a flight attitude that is parallel to the surface of the earth after gaining or losing altitude.
Origin of level
Middle English
an instrument to check that a surface is horizontal
from
Old French
livel
from
Vulgar Latin
lībellum
from
Latin
lībella
diminutive of
lībra
balance
Related Forms:
---
level

---