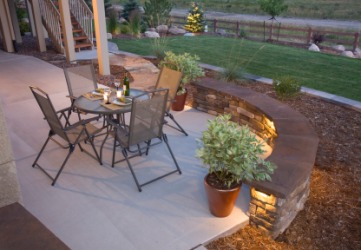 A pleasant terrace at sunset.
noun
The definition of a terrace is a patio, balcony or other outdoor living area.

An example of a terrace is a paved sitting area which is next to an apartment's back door.
---
terrace
a raised, flat mound of earth with sloping sides
any of a series of flat platforms of earth with sloping sides, rising one above the other, as on a hillside
a geologic formation of this nature

an unroofed, paved area, immediately adjacent to a house, etc. and usually overlooking a lawn or garden

a gallery, portico, or colonnade
a usually spacious veranda; piazza

a small, usually roofed balcony, as outside an apartment
a flat roof, esp. of a house of Spanish or Middle Eastern architecture

a line of houses, esp. of row houses, on ground raised from the street
a street in front of such houses: often used in street names

a parklike strip in the middle of a boulevard, etc.
[usually pl.]

Brit.

in a soccer stadium, etc., a cheaper section for standing spectators, consisting of wide, terrraced steps
Origin of terrace
OFr, walled platform, origin, originally , mound of earth from Italian
terrazzo
from
terra
from L, Terra
transitive verb
-·raced

,

-·rac·ing
to form into, lay out in, or surround with a terrace or terraces
---
terrace
noun
a. A porch or walkway bordered by colonnades.

b. A platform extending outdoors from a floor of a house or apartment building.

An open, often paved area adjacent to a house serving as an outdoor living space; a patio.
A raised bank of earth having vertical or sloping sides and a flat top: turning a hillside into a series of ascending terraces for farming.
A flat, narrow stretch of ground, often having a steep slope facing a river, lake, or sea.

a. A row of buildings erected on raised ground or on a sloping site.

b. A section of row houses.

c. Abbr. Ter. or Terr. A residential street, especially along the top or slope of a hill.

A narrow strip of landscaped earth in the middle of a street.
transitive verb
ter·raced, ter·rac·ing, ter·rac·es
To provide (a house, for example) with a terrace or terraces.
To form (a hillside or sloping lawn, for example) into terraces.
Origin of terrace
French
from
Old French
from
Old Provençal
terrassa
from
Vulgar Latin
terrācea
feminine of
*terrāceus
earthen
from
Latin
terra
earth
; see
ters-
in Indo-European roots.
terrace
terraced rice paddies
Bali, Indonesia
---
terrace

Verb
(third-person singular simple present terraces, present participle terracing, simple past and past participle terraced)
To provide something with a terrace.
To form something into a terrace.
Proper noun
A city in British Columbia, Canada
---