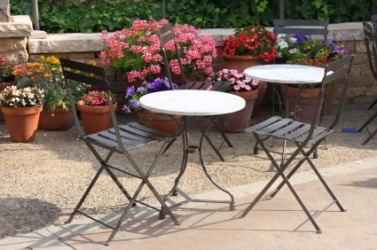 Flowers decorate this patio.
noun
The definition of a patio is a paved outside area off of a house or a building that is used as a seating or living space.

The concrete slab that you have off of your back kitchen door where you have a table and chairs and a sofa for outside seating and activities is an example of your patio.
---
patio
noun
pl.
-·tios·
a courtyard or inner area open to the sky, as in Spanish and Spanish-American architecture
an area, esp. a paved area adjacent to a house, for outdoor lounging, dining, etc.
Origin of patio
Spanish from Vulgar Latin an unverified form
patium,
open area, aphetic for Classical Latin
spatium,
space, influenced, influence by
patere,
to lie open, stretch out: see fathom
---
patio
noun
pl.
pat·i·os
An outdoor space for dining or recreation that adjoins a residence and is often paved.
A roofless inner courtyard, typically found in Spanish and Spanish-style dwellings.
Origin of patio
Spanish
from
Old Spanish
possibly from
Old Provençal
patu, pati
pasture
perhaps from
Latin
pactum
agreement
; see
pact
.
---
patio

---