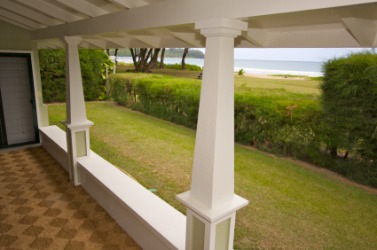 The lanai of an oceanfront home.
noun
The definition of a lanai is a patio or open-sided living area, or is one the Hawaiian islands.

An example of a lanai is a covered and tiled area outside of a condominium in Hawaii.
An example of Lanai is an island in the Hawaiian island which is west of Maui.
---
lanai
a veranda or open-sided living room of a kind found in Hawaii
Origin of lanai
Hawaiian
l?nai
Lanai
one of the Hawaiian Islands, west of Maui: 141 sq mi (365 sq km)
Origin of Lanai
Hawaiian
L?-na'i
, literally , day of conquest from Proto-Polynesian an unverified form
la'?
, day + an unverified form
ngaki
, conquer
---
lanai
noun
pl.
la·nais
A veranda or roofed patio.
Origin of lanai
Hawaiian
lānai
Lanai
or La·na'i
An island of central Hawaii west of Maui. It was used for pineapple production for much of the 1900s.
---
lanai

Noun
(plural lanais)
(chiefly in Hawaii) A Hawaiian-style roofed patio.
See also:
lānai
---