uniform

u·ni·form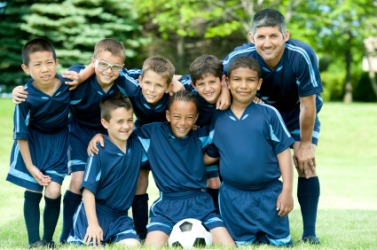 A soccer team in their uniforms.
adjective
Uniform means having the same form, manner, style, etc.

An example of uniform is a row of students walking in a straight line.
noun
The definition of a uniform is a certain outfit that members of a group must wear.

An example of uniform is what Catholic school students must wear.
verb
Uniform is defined as to provide with an outfit that all members of the group must wear.

An example of uniform is to provide army officials with the clothes they must wear.
---
uniform
always the same; not varying or changing in form, rate, degree, manner, etc.; constant: a uniform speed
identical throughout a state, country, etc.: a uniform minimum wage

having the same form, appearance, manner, etc. as others of the same class; conforming to a given standard: a row of uniform houses
being or looking the same in all parts; undiversified: a uniform surface

consistent in action, intention, effect, etc.: a uniform policy
Origin of uniform
Middle French
uniforme
from Classical Latin
uniformis
from
unus,
one +
-formis,
-form
the official or distinctive clothes or outfit worn by the members of a particular group, as policemen or soldiers, esp. when on duty
to clothe or supply with a uniform
in uniform
wearing a uniform; esp., wearing the military or law enforcement uniform appropriate to one's organization, rank, etc.
uniform with
having the same form, appearance, etc. as
---
uniform
adjective
Always the same, as in character or degree; unvarying: planks of uniform length.
Being the same as or consonant with another or others: rows of uniform brick houses.
noun
A distinctive set of clothing intended to identify the members of a specific group: a police uniform.
transitive verb
u·ni·formed, u·ni·form·ing, u·ni·forms
To make (something) uniform.
To provide or dress with a uniform.
Origin of uniform
Latin
ūnifōrmis
ūni-
uni-
fōrma
shape
Related Forms:
u′ni·for′mi·ty u′ni·form′ness

noun
uniform
---
uniform

---