garb

garb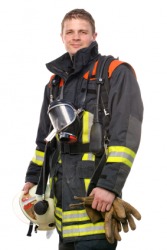 A man in firefighters garb.
noun
The definition of garb is clothing style, or outward appearance.

An example of garb is the clothes worn by a fireman.
verb
Garb is defined as to dress someone.

An example of garb is to put clothes on a baby.
---
garb
manner or style of clothing, esp. as characteristic of an occupation, profession, or rank: clerical garb
external form or appearance

Obs.

style; manner
Origin of garb
Old French
garbe
, gracefulness from Italian
garbo
, elegance from uncertain or unknown; perhaps Germanic an unverified form
garw?
from source Old High German
gar(a)wen
, to prepare, dress, ornament
---
garb
noun
A distinctive style or form of clothing; dress: clerical garb.
An outward appearance; a guise: presented their radical ideas in the garb of moderation.
transitive verb
garbed, garb·ing, garbs
To clothe; dress: was garbed in a long robe.
Origin of garb
Obsolete French
garbe
grace
from
Italian
garbo
from
garbare
to please
of Germanic origin
---
garb

Verb
(third-person singular simple present garbs, present participle garbing, simple past and past participle garbed)
To dress in garb.
Origin
From Middle French garbe ("graceful outline") (Modern French galbe), from Italian garbo ("grace, elegance"), perhaps from Germanic (compare Old High German garwi, garawi ("dress, equipment, preparation") and English gear).
Origin
French gerbe; akin to German Garbe
---