noun
The definition of garb is clothing style, or outward appearance.

An example of garb is the clothes worn by a fireman.
verb
Garb is defined as to dress someone.

An example of garb is to put clothes on a baby.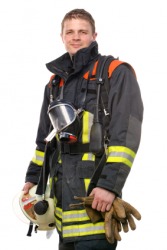 A man in firefighters garb.
---
garb definition by Webster's New World
noun
clothing; manner or style of dress, esp. as characteristic of an occupation, profession, or rank: clerical garb
external form or appearance

Obsolete

style; manner
Origin: Old French garbe, gracefulness ; from Italian garbo, elegance ; from uncertain or unknown; perhaps Germanic an unverified form garwī from source Old High German gar(a)wen, to prepare, dress, ornament
transitive verb
to clothe; dress; attire
Webster's New World College Dictionary Copyright © 2010 by Wiley Publishing, Inc., Cleveland, Ohio. Used by arrangement with John Wiley & Sons, Inc.
---
garb definition by American Heritage Dictionary
noun
A distinctive style or form of clothing; dress: clerical garb.
An outward appearance; a guise: presented their radical ideas in the garb of moderation.
transitive verb
garbed
,
garb·ing
,
garbs
To cover with or as if with clothing; dress.
Origin: Obsolete French garbe, grace, from Italian garbo, from garbare, to please, of Germanic origin.