noun
The definition of a veil is a covering, particularly one made of cloth.

An example of a veil is what a bride wears on her head.
verb
Veil is defined as to cover or hide.

An example of to veil is to hide a gift under a large sheet.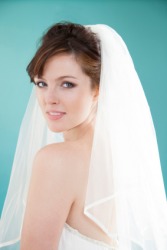 A bride wearing a veil.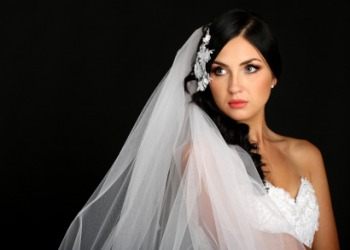 A bride wearing a veil.
---
veil
noun
a piece of light fabric, as of net or gauze, worn, esp. by women, over the face or head or draped from a hat to conceal, protect, or enhance the face
any piece of cloth used as a concealing or separating screen or curtain
anything like a veil in that it covers or conceals: a veil of mist, a veil of silence

a part of a nun's headdress, draped along the sides of the face and over the shoulders
the state or life of a nun: chiefly in , to become a nun

humeral veil

Dialectal

caul

Biol.

velum
Origin of veil
Middle English
veile,
veil, sail, curtain ; from Norman French ; from Classical Latin
vela,
neuter plural , taken as feminine , of
velum,
sail, cloth, curtain ; from Indo-European base an unverified form
weg-,
to weave, attach, a textile from source Old Irish
figim,
I weave, Old English
wecca,
wick
transitive verb
to cover with or as with a veil
to conceal, hide, disguise, screen, obscure, etc.
---
veil
noun
a. A length of cloth worn over the head, shoulders, and often the face, especially by women.

b. A length of netting attached to a woman's hat or habit, worn for decoration or to protect the head and face.

c. A length of protective netting worn over the face by beekeepers.

a. The part of a nun's headdress that frames the face and falls over the shoulders.

b. The life or vows of a nun: assumed the veil.

Any of various cloth head coverings worn by Muslim women.

a. A piece of light fabric hung to separate or conceal what is behind it; a curtain.

b. Something that conceals, separates, or screens like a curtain: a veil of secrecy.

Biology A membranous covering or part, as that on the developing fruiting body of certain mushrooms; a velum.
verb
veiled
,
veil·ing
,
veils
verb
, transitive
To cover with or as if with a veil: Dense fog veiled the bridge.
To conceal or disguise: a smile that veiled his anger.
verb
, intransitive
To wear a veil.
Origin of veil
Middle English, from Old North French, from Latin
vēla
, pl. of
vēlum
,
a covering
.
---
veil
---