mist
[

mist

]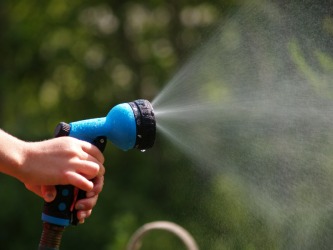 Mist from a garden hose.
noun
Mist is defined as a large mass of water vapor in the air consisting of fine drops of water, or a fine spray of liquid.

An example of a mist is a very light spray from a hose.
---
mist
noun
a large mass of water vapor at or just above the earth's surface resembling a fog, but less dense
a thin film of moisture condensed on a surface in droplets

a cloud of dust, smoke, gas, etc.
a fine spray, as of medication or perfume

a cloudiness or film before the eyes, dimming or blurring the vision: through a mist of tears
anything that dims or obscures the understanding, memory, etc.
Origin of mist
Middle English ; from Old English darkness, mist, akin to Old Norse
mistr,
dark weather ; from Indo-European base an unverified form
meigh-,
to blink, be dim from source Sanskrit an unverified form
mēghá-,
cloud
transitive verb
to make misty; dim or obscure as with a mist
to spray the leaves of (a house plant) with water from a mister
intransitive verb
to be or become misty
---
mist
noun
A mass of fine droplets of water in the atmosphere near or in contact with the earth.
Water vapor condensed on and clouding the appearance of a surface.
Fine drops of a liquid, such as water, perfume, or medication, sprayed into the air.
A suspension of fine drops of a liquid in a gas.
Something that dims or conceals.
A haze before the eyes that blurs the vision.
Something that produces or gives the impression of dimness or obscurity: the mists of the past.
A drink consisting of a liquor served over cracked ice.
verb
mist·ed
,
mist·ing
,
mists
verb
, intransitive
To be or become obscured or blurred by or as if by mist.
To rain in a fine shower.
verb
, transitive
To conceal or veil with or as if with mist.
To moisturize (plants or dry air, for example) with a fine spray of water.
Origin of mist
Middle English, from Old English; see
meigh-
in Indo-European roots.
---
mist
Verb
(third-person singular simple present MiSTs, present participle MiSTing, simple past and past participle MiSTed)
Alternative form of MST (to mock a work by inserting annotations)
---