noun
Mist is defined as a large mass of water vapor in the air consisting of fine drops of water, or a fine spray of liquid.

An example of a mist is a very light spray from a hose.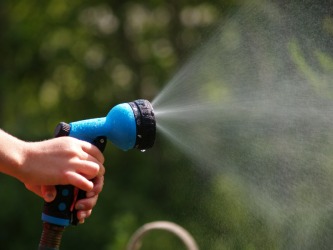 Mist from a garden hose.
---
mist
noun
a large mass of water vapor at or just above the earth's surface resembling a fog, but less dense
a thin film of moisture condensed on a surface in droplets

a cloud of dust, smoke, gas, etc.
a fine spray, as of medication or perfume

a cloudiness or film before the eyes, dimming or blurring the vision: through a mist of tears
anything that dims or obscures the understanding, memory, etc.
Origin of mist
Middle English ; from Old English darkness, mist, akin to Old Norse
mistr,
dark weather ; from Indo-European base an unverified form
meigh-,
to blink, be dim from source Sanskrit an unverified form
mēghá-,
cloud
transitive verb
to make misty; dim or obscure as with a mist
to spray the leaves of (a house plant) with water from a mister
intransitive verb
to be or become misty
---
mist
noun
A mass of fine droplets of water in the atmosphere near or in contact with the earth.
Water vapor condensed on and clouding the appearance of a surface.
Fine drops of a liquid, such as water, perfume, or medication, sprayed into the air.
A suspension of fine drops of a liquid in a gas.
Something that dims or conceals.
A haze before the eyes that blurs the vision.
Something that produces or gives the impression of dimness or obscurity: the mists of the past.
A drink consisting of a liquor served over cracked ice.
verb
mist·ed
,
mist·ing
,
mists
verb
, intransitive
To be or become obscured or blurred by or as if by mist.
To rain in a fine shower.
verb
, transitive
To conceal or veil with or as if with mist.
To moisturize (plants or dry air, for example) with a fine spray of water.
Origin of mist
Middle English, from Old English; see
meigh-
in Indo-European roots.
---
mist
Noun
(countable and uncountable, plural mists)
(uncountable) Water or other liquid finely suspended in air.

It was difficult to see through the morning mist.

(countable) A layer of fine droplets or particles.

There was an oily mist on the lens.

(figuratively) Anything that dims or darkens, and obscures or intercepts vision.
Verb
(third-person singular simple present mists, present participle misting, simple past and past participle misted)
To form mist.

It's misting this morning.

To spray fine droplets on, particularly of water.

I mist my tropical plants every morning.

To cover with a mist.

The lens was misted.

(of the eyes) To be covered by tears.

My eyes misted when I remembered what had happened.
Origin
From Middle English mist, from Old English mist ("mist; darkness; dimness (of eyesight)"), from Proto-Germanic *mihstaz ("mist, fog"), from Proto-Indo-European *migʰ-, *migʰ-lo- ("drizzle, fog"), from Proto-Indo-European *meygʰ- ("to flicker, blink, be dark; cloud, mist"). Cognate with Scots mist ("mist, fog"), West Frisian mist ("mist"), Dutch mist ("mist"), Low German Mist ("manure"), German Mist ("manure"), Swedish mist ("mist, fog"), Swedish mistur ("mist"), West Frisian miegelje ("to drizzle"), Dutch dialectal miggelen, miegelen ("to drizzle"), Lithuanian miglà ("fog"), Russian мгла (mgla, "fog, haze").
---