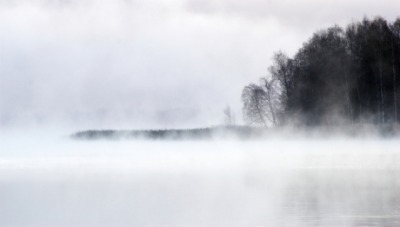 Fog is an example of vapor.
noun
Vapor is a gas or moisture floating in the air.

An example of vapor is fog.
verb
Vapor is defined as to give off gas or water moisture.

An example of vapor is for water to give off steam when it boils.
---
vapor
visible particles of moisture floating in the air, as fog, mist, or steam
any cloudy or imperceptible exhalation, as smoke or noxious fumes

the gaseous form of any substance which is a liquid or a solid at room temperature

any substance vaporized for use in machinery, medical therapy, etc.
a mixture of such a vaporized substance with air, as the explosive mixture in an automotive cylinder

Now Rare

anything insubstantial or worthless
[pl.]

Archaic

exhalations from the stomach believed to be harmful to one's health
hypochondria or depressed spirits: often with the
Origin of vapor
Middle English
vapour
from Anglo-French from Middle French
vapeur
from Classical Latin
vapor
from Indo-European base an unverified form
wep-,
to give off vapors
to rise or pass off in the form of vapor; evaporate
to give off vapor
to indulge in idle talk or boasting
---
vapor
noun
The gaseous state of a substance that is liquid or solid at room temperature.
A faintly visible suspension of fine particles of matter in the air, as mist, fumes, or smoke.
A mixture of fine droplets of a substance and air, as the fuel mixture of an internal-combustion engine.
Archaic

a. Something insubstantial, worthless, or fleeting.

b. A fantastic or foolish idea.

vapors Archaic

a. Exhalations within a bodily organ, especially the stomach, supposed to affect the mental or physical condition. Used with the.

b. A nervous disorder such as depression or hysteria. Used with the.
verb
va·pored, va·por·ing, va·pors
verb
transitive
To fill or cover with vapor: Perfume vapored the room.
To vaporize: "You wished you'd seen one of the monster shots that vapored an atoll way back when" ( Don DeLillo )
verb
intransitive
To give off vapor.
To evaporate: The fog vapored away.
To engage in idle, boastful talk: vapored on about his accomplishments.
Origin of vapor
Middle English
vapour
from
Anglo-Norman
from
Latin
vapor
Related Forms:
---
vapor

---