verb
To reek is to smell strongly of something unpleasant, or to give off a sense of something unpleasant.

When you douse yourself in cheap perfume and people two tables over can smell you, this is an example of a time when you reek of perfume.
When your boss promotes his son to President of the company even though his son isn't qualified, this is an example of a situation where the hiring decision reeks of nepotism.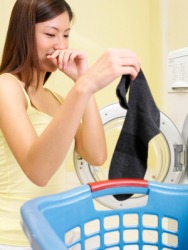 This sock reeks.
---
reek
noun
vapor; fume
a strong, unpleasant smell; stench

Scot., North Eng.

smoke
Origin of reek
Middle English ; from Old English
rec,
akin to Old Norse
reykr,
German
rauch
; from uncertain or unknown; perhaps Indo-European base an unverified form
reug-,
cloud, smoke
intransitive verb
to give off steam or smoke
to have a strong, offensive smell
to be permeated with anything very unpleasant
Origin of reek
ME
reken
< OE
reocan
transitive verb
to expose to the action of smoke or fumes
to emit or exude (vapor, fumes, etc.)
---
reek
intransitive verb
reeked
,
reek·ing
,
reeks
To give off a strong unpleasant odor: "Grandma, who reeks of face powder and lilac water" (Garrison Keillor).
To be pervaded by something unpleasant: "This document &ellipsis; reeks of self-pity and self-deception" (Christopher Hitchens).
Chiefly British To smoke, steam, or fume.
noun
A strong offensive odor; a stench. See Synonyms at stench.
Chiefly British Smoke or vapor.
Origin of reek
Middle English
reken
,
to emit smoke
, from Old English
rēocan
,
to emit smoke
, and
rēcan
,
to expose to smoke
; see
reug-
in Indo-European roots.
Related Forms:
---
reek
Origin
From Middle English rek, reke ("smoke"), from Old English rēc, rīec, from Proto-Germanic *raukiz (compare West Frisian reek, riik, Dutch rook, Low German Röök, German Rauch, Danish røg, Norwegian røyk), from Proto-Indo-European *rougi- (compare Lithuanian rū̃kti 'to smoke', rū̃kas 'smoke, fog', Albanian regj 'to tan').
Verb
(third-person singular simple present reeks, present participle reeking, simple past and past participle reeked)
(archaic, intransitive) To be emitted or exhaled, emanate, as of vapour or perfume.
To have or give off a strong, unpleasant smell.

You reek of perfume.
Your fridge reeks of egg.

(figuratively) To be evidently associated with something unpleasant.

The boss appointing his nephew as a director reeks of nepotism.
Origin
Probably a transferred use (after Irish cruach stack (of corn), pile, mountain, hill) of a variant of rick (with which it is cognate).
---