verb
To reek is to smell strongly of something unpleasant, or to give off a sense of something unpleasant.

When you douse yourself in cheap perfume and people two tables over can smell you, this is an example of a time when you reek of perfume.
When your boss promotes his son to President of the company even though his son isn't qualified, this is an example of a situation where the hiring decision reeks of nepotism.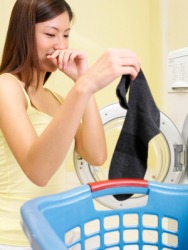 This sock reeks.
---
reek definition by Webster's New World
noun
vapor; fume
a strong, unpleasant smell; stench

Scot., North Eng.

smoke
Origin: Middle English ; from Old English rec, akin to Old Norse reykr, German rauch ; from uncertain or unknown; perhaps Indo-European base an unverified form reug-, cloud, smoke
intransitive verb
to give off steam or smoke
to have a strong, offensive smell
to be permeated with anything very unpleasant
Origin: ME reken < OE reocan
transitive verb
to expose to the action of smoke or fumes
to emit or exude (vapor, fumes, etc.)
Webster's New World College Dictionary Copyright © 2010 by Wiley Publishing, Inc., Cleveland, Ohio. Used by arrangement with John Wiley & Sons, Inc.
---
reek definition by American Heritage Dictionary
verb
reeked
,
reek·ing
,
reeks
verb
, intransitive
To smoke, steam, or fume.
To be pervaded by something unpleasant: "This document … reeks of self-pity and self-deception" (Christopher Hitchens).
To give off or become permeated with a strong unpleasant odor: "Grandma, who reeks of face powder and lilac water" (Garrison Keillor).
verb
, transitive
To emit or exude (smoke, for example).
To process or treat by exposing to the action of smoke.
noun
A strong offensive odor; a stench. See Synonyms at stench.
Vapor; steam.
Origin: Middle English reken, to emit smoke, from Old English rēocan, and rēcan, to expose to smoke; see reug- in Indo-European roots.
Related Forms: