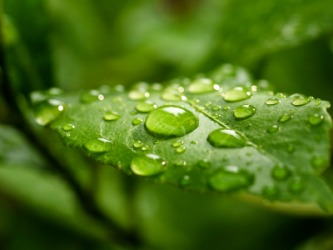 A dew covered leaf.
noun
Dew is defined as the liquid that condenses during the night on surfaces and plants when warm air touches a cool surface.

An example of dew is the liquid that drips off of blades of grass in the morning.
---
dew
the condensation formed, usually during the night, on lawns, cars, etc. as a result of relatively warm air contacting a cool surface
anything regarded as refreshing, gently falling, pure, etc., like dew
any moisture in small drops, as perspiration
Origin of dew
Middle English from Old English
deaw
, akin to German
tau
from Indo-European base an unverified form
dheu-
, to run from source Sanskrit
dh?vati
, a spring, brook
Old Poet.
to wet with or as with dewdrops; bedew
---
dew
noun
Water droplets condensed from the air, usually at night, onto cool surfaces.
Something moist, fresh, pure, or renewing: "The timely dew of sleep / … inclines / Our eye-lids" ( John Milton )
Moisture, as in the form of tears or perspiration, that appears in small drops.
transitive verb
dewed, dew·ing, dews
To wet with or as if with dew.
Origin of dew
Middle English
deu
from
Old English
dēaw
; see
dheu-
1
in Indo-European roots.
---
dew

---