frost

frost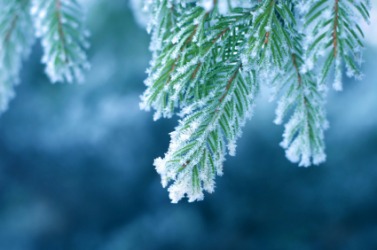 Frost on tree branches.
noun
The definition of frost is the icy crystals on things that are frozen, a temperature low enough to freeze or the state of being frozen.

An example of frost is the bits of ice that form on the outside of something left in the freezer for a very long time.
An example of frost is what happens to things left outside in below zero degrees.
verb
Frost is defined as to cover with icing or a layer of ice crystals.

An example of frost is putting a layer of chocolate buttercream over the top and sides of a cake.
An example of frost is a below freezing night resulting in a layer of frost on the windshield of your car.
---
frost
a freezing or state of being frozen
a temperature low enough to cause freezing
the icy crystals that form directly on a freezing surface as moist air contacts it; rime; hoarfrost
coolness of action, feeling, manner, etc.

Informal

a book, play, etc. that is poorly received by the public; failure
Origin of frost
Middle English from Old English
forst, frost
(akin to German
frost
) from past participle base of
freosan
(see freeze) +
-t
(Gmc an unverified form
-ta
), nominal suffix
to cover with frost
to damage, wither, or kill by freezing
to cover with frosting, or icing
to give a frostlike, opaque surface to (glass or metal)
to apply lighter coloring to selected strands of (hair) using a chemical dye

Slang

to make angry, annoy, irritate, etc.
Frost
---
frost
noun
a. A deposit of minute ice crystals formed when water vapor condenses at a temperature below freezing.

b. A period of weather when such deposits form.

A cold manner or period of disaffection: a frost in diplomatic relations.
verb
frost·ed, frost·ing, frosts
verb
transitive
To cover with frost.
To damage or kill by frost.
To cover (glass, for example) with a roughened or speckled decorative surface.
To cover or decorate with icing: frost a cake.
To bleach or lighten the color of (hair) with dye so that some but not all strands are changed in color.
Slang To anger or upset: What really frosted me about the incident was the fact that you lied.
verb
intransitive
To become covered with frost: The windshield frosted up overnight.
Origin of frost
Middle English
from
Old English; see
preus-
in Indo-European roots.
---
frost

---