water

wa·ter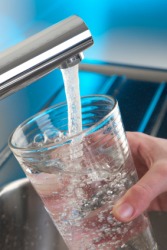 Water from the kitchen tap.
noun
Water is a liquid found on Earth which is known as H20 that has no odor or taste.

Facts About Water

Seventy percent of the earth is made up of water.

Ninety-seven percent of the earth's water is in oceans and seas while two percent is found on the icecaps.
Huge bodies of water can absorb and store large amounts of heat coming from the sun especially during daytime and the summer season.
Seventy-five percent of the human body is made up of water and 90 percent of human blood is water.

An example of water is what comes out of the kitchen sink faucet.
verb
Water is defined as to wet something with H20.

An example of water is to provide plants with hydration.
---
water
the colorless, transparent liquid occurring on earth as rivers, lakes, oceans, etc., and falling from the clouds as rain: chemically a compound of hydrogen and oxygen, HO, it freezes, forming ice, at 0°C (32°F) and boils, forming steam, at 100°C (212°F)
water in a specified form or amount, or occurring or distributed in a specified way, or for a specified use, as drinking or washing
[often pl.]

a large body of water, as a river, lake, or sea
the part of the sea contiguous with a specified country, land mass, etc. or the parts away from this: international waters
any area in a body of water: the noisy waters at the rapids
the liquid substance of a body of water: the pond's still waters

water with reference to

its depth: ten feet of water at the dam
its displacement: a boat that draws six feet of water
its surface: above water, under water
its level in a sea, river, etc.: high water, low water

[pl.] the water of mineral springs: to take the waters at Saratoga
any bodily fluid or secretion, as urine, saliva, tears, or gastric and pancreatic juices; specif.,

the fluid surrounding the fetus in pregnancy; amniotic fluid
a watery fluid retained abnormally: water on the knee

a solution of any substance in water: mineral water, ammonia water

the degree of transparency and luster of a precious stone as a measure of its quality: a diamond of the first water
degree of quality or conformity to type: an artist of the first or purest water

a wavy, lustrous finish given to linen, silk, rayon, etc., or to a metal surface
a watercolor painting

Finance

a valuation wrongfully given to the assets of a business in excess of their real value
an issue of capital stock which brings the face value of all the stock issued by a business to a figure higher than the actual value of its assets
Origin of water
Middle English from Old English
wæter
, akin to German
wasser
from Indo-European an unverified form
wod?r
from an unverified form
wed-
, to wet ( from base an unverified form
awed-
, to moisten, flow) from source Classical Greek
hyd?r
, water, Classical Latin
unda
, a wave, Russian
voda
, water, Irish
uisce
, water
to supply with water; specif.,

to give drinking water to (animals)
to give water to (soil, crops, etc.) by sprinkling, pouring, or irrigating
to bring water to (land): said of a river, canal, etc.
to put water on by sprinkling, hosing, etc.; soak or moisten with water: often with down
to dilute by adding water to: a tavern that waters the drinks

to give a wavy luster to the surface of (silk, etc.)

Finance

to issue (stock) so as to add to the total face value without increasing assets to justify this valuation
Origin of water
ME
wateren
< OE
wæterian
< the n.
to fill with tears: said of the eyes
to secrete or fill with saliva: his mouth watered at the sight of the roast
to take on a supply of water
to drink water: said of animals
of or having to do with water
in or on water: water sports
growing in or living on or near water: water plants, water birds

operated by water: a water wheel
derived from running water: water power

containing water or fluid: a water blister
prepared with water, as for thinning or hardening
hold water
to contain water without leaking
to remain sound, consistent, or logical, with no breaks or weaknesses: an argument that doesn't hold water
like water
lavishly; freely: said as of money spent
make someone's mouth water
to be or seem tasty: often used fig. for inspiring any keen appetite or desire
make water
to urinate
to take in water, as through a leak: said of a boat or ship
test the waters
to explore a possible course of action; approach initially
water down
to weaken the potency or effectiveness of
water under the bridge
something not worth reexamining because it is in the past and finished
---
water
noun
A clear, colorless, odorless, and tasteless liquid, H2O, essential for most plant and animal life and the most widely used of all solvents. Freezing point 0°C (32°F); boiling point 100°C (212°F); specific gravity (4°C) 1.0000; weight per gallon (15°C) 8.338 pounds (3.782 kilograms).

a. Any of various forms of water: waste water.

b. often waters Naturally occurring mineral water, as at a spa.

a. A body of water such as a sea, lake, river, or stream.

b. waters A particular stretch of sea or ocean, especially that of a state or country: escorted out of British waters.

a. A supply of water: had to turn off the water while repairing the broken drain.

b. A water supply system.

a. Any of the fluids normally secreted from the body, such as urine, perspiration, tears, or saliva.

b. A fluid present in a body part in abnormal quantities as a result of injury or disease: water on the knee.

c. The fluid surrounding a fetus in the uterus; amniotic fluid.

An aqueous solution of a substance, especially a gas: ammonia water.
A wavy finish or sheen, as of a fabric or metal.

a. The valuation of the assets of a business firm beyond their real value.

b. Stock issued in excess of paid-in capital.

a. The transparency and luster of a gem.

b. A level of excellence.
verb
wa·tered, wa·ter·ing, wa·ters
verb
transitive
To pour or sprinkle water on; make wet: watered the garden.

a. To give drinking water to.

b. To lead (an animal) to drinking water.

To dilute or weaken by adding water: a bar serving whiskey that had been watered.
To give a sheen to the surface of (fabric or metal).
To increase (the number of shares of stock) without increasing the value of the assets represented.
To irrigate (land).
verb
intransitive
To produce or discharge fluid, as from the eyes.
To salivate in anticipation of food: The wonderful aroma from the kitchen makes my mouth water.
To take on a supply of water, as a ship.
To drink water, as an animal.
Phrasal Verbs:
water down
To reduce the strength or effectiveness of:
"It seemed clear by late autumn that the ban would be significantly watered down or removed altogether before the trade bill became law"
(
George R. Packard
)
Origin of water
Middle English
from
Old English
wæter
; see
wed-
1
in Indo-European roots.
Related Forms:
---
water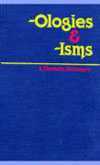 See also bathing; dampness; lakes; rain; rivers; sea; snow.
antlophobia
an abnormal fear of floods.
aquiculture
hydroponics. —
aquicultural
,
adj.
atmology
the science dealing with the behavior of water vapor. —
atmologist
,
n.
—
atmologic, atmological
,
adj.
balneotherapy
the treatment of illness or disease by bathing.
bletonism
the skill or talent of water divining.
dehydration
1.
the process of dehydrating or removing the water from a substance.
2.
the state of being dehydrated.
deliquescence
the property of a substance to attract and absorb moisture, especially from the air.
Cf. efflorescence
. —
deliquescent
,
adj.
dowsing
a form of divination involving a rod or wand, especially the art of finding underground supplies of water, ores, etc. Also called
rhabdomancy
.
efflorescence
the property of a substance to yield up water through evaporation.
Cf. deliquescence
. See also
processes
. —
efflorescent
,
adj.
fluviology
the science of watercourses, especially rivers. —
fluviologist
,
n.
hydragogy
Obsolete.
the moving of water by an artificval channel.
hydriatrics
hydropathy.
hydrodipsomania
an abnormal love of drinking water.
hydrography
1.
the study, description, and mapping of oceans, lakes, and rivers, especially with reference to their use for navigational purposes.
2.
those parts of the map, collectively, that represent surface waters. —
hydrographer
,
n.
—
hydrographic, hydrographical
,
adj.
hydrology
the science that studies the occurrence, circulation, distribution, and properties of the waters of the earth and its atmosphere. —
hydrologist
,
n.
—
hydrologie, hydrological
,
adj.
hydromancy
a form of divination involving observations of water or of other liquids.
hydromania
an excessive love of water.
hydropathy
the "water cure," first developed in Germany in 1825. Also called
hydriatrics
. —
hydropathist
,
n.
—
hydropathic
,
adj.
hydrophily
Botany
. the capacity of a plant to be pollinated through the agency of water. —
hydrophilous
,
adj.
hydrophobia
an abnormal fear of water.
hydroscope
a device for viewing things below the surface of a body of water.
hydrotherapy
the treatment of disorders by the use of water externally, especially in the form of exercises in a pool, etc. —
hydrotherapist
,
n.
—
hydrotherapeutic
,
adj.
hydrotropism
growth or movement in response to water as a stimulus. —
hydrotropic
,
adj.
hygrology
the branch of physics that studies atmospheric humidity.
hygrophobia
1.
hydrophobia
2.
an abnormal fear of water.
lecanomancy
a form of divination involving the examination of water in a basin.
lecanoscopy
a form of self-hypnotism involving staring at water in a basin.
limnology
the scientific study of bodies of fresh water, as lakes or rivers, with reference to their physical, geographical, and biological features. —
limnologist
,
n.
—
limnologic, limnological
,
adj.
orohydrography
the branch of hydrography that studies the drainage phenomena of mountains. —
orohydrographic
,
adj.
rheotaxis
the tendency of some plants to respond to a current of water by growing with it (
positive rheotaxis
) or against it (
negative rheotaxis
).
rheotropism
the tendency of certain living things to move in response to the mechanical stimulus of a current of water.
sympesiometer, sympiezometer
an instrument for measuring the pressure exerted by currents of water. See also
instruments
.
turbidimeter
an instrument for measuring the turbidity of water or other fluids. —
turbidimetric
,
adj.
turbidimetry
the measurement of the turbidity of water or other fluids, as with a turbidimeter. —
turbidimetric
,
adj.
---
water

Noun
(countable and uncountable, plural waters)
(uncountable) A chemical, found at room temperature and pressure as a clear liquid, having the formula Hâ''O, required by all forms of life on Earth. From a linguistic point of view it can be argued that Hâ''O exists in three states; water is one of them and is by definition liquid. Frozen water is called ice (though there are other frozen compounds known as ice they are given specific descriptions; e.g. dry ice refers to frozen carbon dioxide.) Ice alone refers to frozen water. Water vapor has various names, none of which is water. One can request a glass of water and not expect to receive a glass of ice or container of water vapor.

By the action of electricity, the water was resolved into its two parts, oxygen and hydrogen.

(uncountable, in particular) The liquid form of this chemical; liquid Hâ''O.

May I have a glass of water?
Your plants need more water.

(countable) A serving of water.

(religion, philosophy) One of the five basic elements (See the Classical elements).
(often in the plural) Any body of water, or a specific part of it.
The boat was found in within the territorial waters.
These seals are a common sight on the coastal waters of Chile.
We had a great view of the waters of this place.
A combination of water and other substance(s).
(sometimes countable) Mineral water.

Perrier is the most popular water in this restaurant.

(countable, often in the plural) Spa water.

Many people visit Bath to take the waters.

Urine. [from 15th c.]
Amniotic fluid; used in the plural in the UK and in singular in North America.

Before the child is born, the pregnant woman's waters break. (UK)
Before the child is born, the pregnant woman's water breaks. (North America)

(colloquial, medicine) Fluids in the body, especially when causing swelling.

He suffers from water on the knee.
(figuratively, in the plural or in the singular) A state of affairs; conditions; usually with an adjective indicating an adverse condition.
The rough waters of change will bring about the calm after the storm.
(colloquial, figuratively) A person's intuition.
I know he'll succeed. I feel it in my waters.
(uncountable, dated, finance) Excess valuation of securities.
The limpidity and lustre of a precious stone, especially a diamond.
a diamond of the first water, i.e. one that is perfectly pure and transparent
Verb
(third-person singular simple present waters, present participle watering, simple past and past participle watered)
To pour water into the soil surrounding (plants).
To wet or supply with water; to moisten; to overflow with water; to irrigate.
To provide (animals) with water for drinking.

I need to go water the cattle.

(intransitive) To get or take in water.

The ship put into port to water.

(colloquial) To urinate onto.

Nature called, so I stepped into the woods and watered a tree.

To dilute.

Can you water the whisky, please?

(dated, finance) To overvalue (securities), especially through deceptive accounting.
(intransitive) To fill with or secrete water.

Chopping onions makes my eyes water.
The smell of fried onions makes my mouth water.
Origin
From Middle English water, from Old English wæter ("water"), from Proto-Germanic *watōr ("water"), from Proto-Indo-European *wódrÌ¥ ("water").
Cognate with Scots wattir, watir ("water"), North Frisian weeter ("water"), Eastern Frisian woater ("water"), West Frisian wetter ("water"), Dutch water ("water"), Low German water ("water"), German Wasser, Swedish vatten ("water"), Icelandic vatn ("water"), Old Irish coin fodorne ("otters", literally "water-dogs"), Latin unda ("wave"), Lithuanian vanduõ ("water"), Russian вода (voda, "water"), Albanian ujë ("water"), Ancient Greek ὕδωρ (hýdōr, "water"), Armenian Õ£Õ¥Õ¿ (get, "river"), Sanskrit उदन् (udán, "wave, water"), Hittite 𒉿𒀀𒋫𒅈 (wātar, "water").
---